Angel Island Company (Angel Island Transport and Catered Events)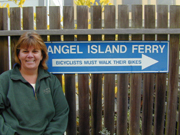 Published: March, 2002
Donna Doran, General Manager
Angel Island Company (Angel Island Transport and Catered Events)
I work for California Parks Company, a privately owned company that concessionaires in state, national and county parks. We have seventeen different operations throughout California – from lake opera
tions, Big Basin tent cabins, Angel Island, to a guest ranch up in Lassen. I've been with the company for fourteen years, but on Angel Island for four. We take care of all the services including bike rentals, tram tours around the island, corporate events, catering, and getting all the supplies to and from the island - from tires for the trams to the 600 cases of bottled water we go through a year. .
We have a lovely café that serves gourmet lunches. We have expanded the café so you can sit on the deck and overlook the water. We have a variety of items here - typical appetizers like poppers and french fries, gourmet sandwiches, microbrew beer, wine, coffee and lattes. We serve Panache Coffee - the best coffee in Marin. (It's the way the beans are roasted. I would say it is a cut above the coffeehouses out there right now.) In the morning, we get on a 22-foot freight boat in Sausalito, drive over and meet the vendors in Tiburon, load everything, take it over to the island and up to the different locations. It can be a daily thing or once a week, depending on what we need. We have special boxes called "Temp-Keeps" to put all the food in. It has to be kept at temperature when it's unloaded from the trucks and brought over. Whatever temperature we put it in at, hot or cold, it stays there for a good hour.
When we first took over in 1995, they weren't doing corporate catering. They didn't really understand how much freight we were going to need and they bought this old wood boat. It was called the "50/50". (There was a 50% chance that it would make it to the island...) There were times when we thanked God for cell phones, because we were adrift and going with the tide and current until Vessel Assist came and found us. It didn't make me nervous, though, because I have been around water a lot. I figured someone would rescue us or we would deal with it ourselves somehow, since I'm known as the female McGyver of our company. Now we have this bright red aluminum Duckworth boat. Everyone knows it's the Angel Island boat because it's the reddest, brightest thing on the bay.
Raccoon Straights, as it's called, sometimes offers up some challenges. You have to make sure you put the load in the boat balanced because sometimes it can be pretty hairy with the tides - white caps when the rest of the bay is quite calm. We had one person who didn't know what balance meant. I think we had about 10 kegs in the boat and some potato chips, and all the kegs were on one side of the boat and I thought we were going to take on water. The 50/50 - you couldn't put much on that. The water was over the waterline… And the fog can be quite interesting. Sometimes you can't see the island. Well, you know we have charts, but it's more of a…you're close to shore, you see that and you're almost there. The ferries are probably our biggest concern when it's foggy. When people come out here to have a cup of coffee and a french fry, they have no idea how many things we have to think about just to get that food out here.
Now that we have services, we find people are spending more time on the island. It gets a little busier between Memorial Day and Labor Day. We can have three or four corporate events going on in one day at different sites on the island - anywhere from four people to two thousand. Some people come and spend their time on Angel Island the same time each year. There are some firemen from Fairfield that come down every 4th of July. We have a lot of locals, which is nice. We hav
e the same boaters that pull in at 1:00 or 2:00 in the afternoon and come on up for a beverage, stay until sunset or "moor out". Some people come out just to jog and have a cup of coffee.
We have a combination tour with Alcatraz. (Island hop!) It's a great way to see both islands. It's always sold out in the summer - every single day. With the trams and the bikes, we have ways for people to get around to see the beautiful beaches and the history of the island instead of just staying in the cove area. This year we have a new tram tour that will allow guests to go into the military buildings. A lot of people you'd run into over the years never got out of the cove. Now they're exploring the island and finding the wonders that Angel Island has to offer.
In 2000, business was tremendous. We had so many international tourists, which is another wonderful part of this job. Last January when the NASDAQ took the dive, corporate events kind of "went away" a little bit. September 11th obviously killed the business from then on, out here. It has been really slow but we have people out here now. School groups are here, and we are expecting a lot more locals this year. Hopefully the other business will come back. We have quite a few corporate bookings, so I think we're going to be fine.
My office is on the island, so I work out here every day. It's just an awesome place to come -you get the views out here from 360 degrees. It's an ideal job for me because I grew up around water. I have a slogan, "H20 - let's go!" That's my attitude - anything to do with water. While in college, I was a river guide in Idaho and up in Canada, and I was on crew at San Diego State. I'm now the president of Tamalpais Outrigger Canoe Club of Sausalito that sponsors a race that goes around Angel Island every year.
Right now we are only open weekends until April. We will soon be open seven days a week. During the summer I am out here 6-7 days a week, until my paddling club comes and rescues me so I can go practice. With the logistics of being on an island, there are challenges and frustrating days. But all you have to do is look up to realize you probably have one of the best jobs there are in the Bay Area.