Vallejo's annual Waterfront Weekend comes to the city's beautiful waterfront on Saturday and Sunday, October 5 and 6.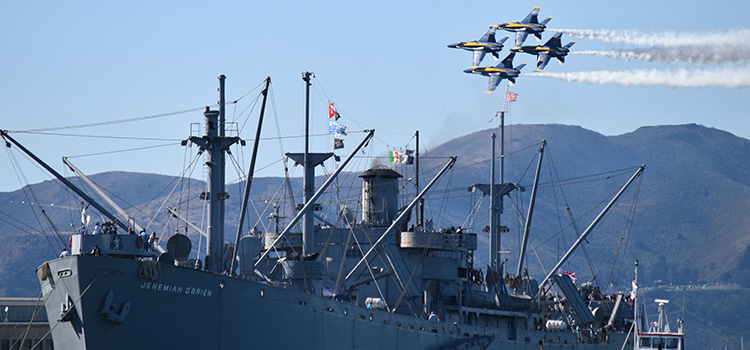 Published: October, 2019
Waterfront Weekend Returns to Vallejo
Vallejo's annual Waterfront Weekend comes to the city's beautiful waterfront on Saturday and Sunday, October 5 and 6. The free event is held to celebrate life in Vallejo as well as to show what the city has to offer to out-of-town visitors. Event hours are 9 a.m. to 8 p.m. on Saturday and 9 a.m. to 4 p.m. on Sunday. The Whaleboat Regatta is the signature event of the weekend. As many as 30 teams will row full-size whaleboats up and down the Mare Island Strait between Vallejo and Mare Island as they compete over the two-day event. Other events during the weekend include a chili cook-off, 10K/5K half marathon, paragliding demonstration, GloRun, children's activities, a car show, food and crafts vendors, an art village and various nonprofit information booths. The Vallejo Waterfront Weekend unites downtown Vallejo and the waterfront communities and also celebrates the historic significance of the Mare Island Naval Shipyard. SolTrans will be offering a free hop-on hop-off bus tour with live commentary of both downtown Vallejo and Mare Island as well as all the activities along the waterfront. For more information about Vallejo's Waterfront Weekend, visit www.VallejoWaterfrontWeekend.com.
Castro Street Fair
Head over to the Castro District on Sunday, October 6 to celebrate the 46th anniversary of the Castro Street Fair. This fun festival features mouth-watering gourmet food, live music performers from around the world and plenty of dancing in the streets. Founded by the original "Mayor of the Castro," Harvey Milk, this local tradition celebrates the LGBT community. It's a time when everyone comes together and enjoys the diversity within the city. This lively event is held the first Sunday in October from 11 a.m. to 6 p.m. in the heart of San Francisco's Castro District; along Castro Street between Market and 19th, Market Street between Noe and Castro, and 18th Street between Noe and Diamond. Donations are suggested of $5 or $10 at the entry gates the day of the fair. For more information, visit castrostreetfair.org.
Fleet Week Cruise
The SS Jeremiah O'Brien's annual San Francisco Fleet Week Cruise is coming up on Saturday and Sunday, October 12 and13, sailing from 10 a.m. to 5 p.m. both days. The O'Brien S.F. Fleet Week Cruise travels around San Francisco Bay out under the Golden Gate Bridge, around Alcatraz, the Bay Bridge, along the San Francisco waterfront to view both the visiting Navy ships and the air show featuring the U.S. Navy Blue Angels. Food and drink are provided with your ticket; hamburgers and hotdogs will be provided by Bistro Boudin and beer and wine will also be served. Live music is provided on Saturday by the Brassworks Band. Tickets are $150 for adults and $90 for children ages 5 to 16, or $400 for a family of two adults and two children. Boarding is at 9 a.m. For more information or to order tickets, visit www.ssjeremiahobrien.org.
Italian Heritage Parade
The Italian Heritage Parade in San Francisco is the city's oldest civic event. It's also the nation's oldest Italian-American parade, dating back to 1868. This annual event is part of the Columbus Day celebration. It starts in Fisherman's Wharf and makes its way from block to block until it reaches San Francisco's North Beach District—an area also known as Little Italy. The parade begins at 12:30 p.m. on Sunday, October 13 at the foot of Jefferson and Powell Streets in Fisherman's Wharf, proceeds south through North Beach on Columbus Avenue and ends in Washington Square Park. At the park, there will be a family-friendly festival. For more information, visit sfitalianheritage.org.
China Basin Brew Fest
Enjoy a perfect San Francisco autumn experience while celebrating the Northern California craft beer scene at the First Annual China Basin Brew Fest taking place on Friday, October 25 at the Waterfront Esplanade at China Basin campus, next to the Giants Ballpark. Guests are sure to enjoy a thoroughly delicious and delightful late afternoon and evening of craft beer, friends and fun along the beautiful San Francisco waterfront. Tickets to the China Basin Brew Fest include tastings of over 25 craft beers from some of Northern California's favorite breweries, great live music and more. Tasty bites from local food trucks will be available for purchase. The Brew Fest takes place from 3 to 7 p.m. at China Basin, 185 Berry Street. Ticket are $20 and available on Eventbrite. Tickets can also be purchased at the Brew Fest for $25.
Happy Sharktober!
This is the season of the shark. Adult white sharks are returning to our Sanctuary following a migration of over 4,000 miles. Don't hate, celebrate—it's Sharktober! Join Shark Stewards celebrating sharks in a series of educational events or on an expedition to the islands of the great white shark. Since 2008, Shark Stewards has been hosting Sharktober outreach and educational events each fall. As a kelp roots organization, Shark Stewards rely on the power of volunteers to share the word on shark and marine protection. Pitch in or join them at one of their Sharktoberfest events, or host your own shark party and help advocate for shark protection wherever you live. See sharktoberfest.org for a full listing of shark education events and activities.
To have your event or announcement considered for the Bay Crossings Around the Bay listings, please send information or a press release to: joel@baycrossings.com.