The Port of Redwood City, a "niche" cargo gateway, recently received a 2019 Homeland Security Port Security Grant.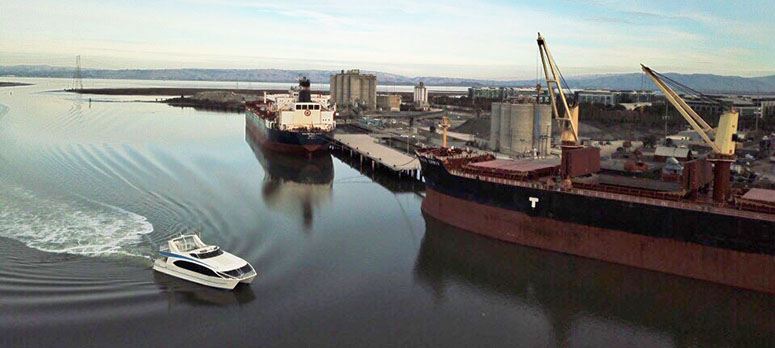 The Port of Redwood City recently received a $1.85 million Homeland Security Port Security Grant to fund security infrastructure, training and operations programs that boost port resilience and recovery. Photo courtesy of Port of Redwood City
BY PATRICK BURNSON
Published: October, 2019
The Port of Redwood City, a "niche" cargo gateway, recently received a 2019 Homeland Security Port Security Grant. The $1.85 million grant is the largest in northern California and the fourth largest in the nation for a port entity.
The grant will fund transportation security infrastructure, training and operations programs that boost port resilience and recovery. This includes providing funds for increased port-wide risk management and capabilities to prevent, detect, respond to and recover from terrorist attacks.
"Receiving this grant underscores the federal government's confidence in the port as a valued strategic partner in homeland security and a leader in emergency preparedness," said Port of Redwood City Executive Director Kristine A. Zortman. "This grant further demonstrates to our community the significance that the port plays in security and disaster recovery for the region."
The grant will specifically fund a new state-of-the-art interagency operations center, training activities, and security infrastructure, including cameras, lights, fencing, a new jet dock and CBRNE (chemical, biological, radiological, nuclear, explosive) detection equipment for the local fire and police departments. These improvements strengthen the port's collaboration with local, regional and federal first-responder partners involved in maritime security.
The award is part of Homeland Security's FY 2019 Port Security Grant Program, which provides $100 million for transportation infrastructure security activities to implement Area Maritime Transportation Security Plans and facility security plans among port authorities, facility operators and state and local government agencies required to provide port security services.
The grant is another piece of good news in a banner year for the Port of Redwood City, which reported another historic year, generating $9.3 million in revenue from over 2.65 million metric tons of cargo moving across the port's docks. The port also recently announced that the U.S. Army Corps of Engineers will perform a dredging project to maintain and improve the federal shipping channel in Redwood City, facilitating and supporting existing shippers and growing operations.
Lytle Receives Lifetime Achievement Award
Chris Lytle, the Port of Oakland's recently retired executive director, received one of the shipping industry's top honors last month. The Containerization and Intermodal Institute presented him its lifetime achievement award in recognition of his 53-year maritime career. The recognition came during the institute's annual Connie Awards banquet.
As Bay Crossings reported recently, Lytle stepped down in July after six years at the helm in Oakland. He had previously served as executive director of the Port of Long Beach. Both are among the nation's 10 largest container seaports.
"I've had a long and satisfying career and this recognition makes it easier to step away," said Lytle. "I'm leaving the industry with great memories and pride in what I've accomplished alongside hundreds of wonderful colleagues."
Connie Awards are presented annually to maritime industry leaders who've had substantial impacts on container shipping. Lifetime achievement awards recognize prolonged contributions to trade and transportation.
Lytle is credited with leading Oakland to record-high cargo volume in each of the past two years. His tenure was marked by the introduction of industry service innovations that included:
• Nearly round-the-clock cargo pickup and delivery for harbor truckers;
• Online transaction-time reporting at marine terminals; and
• Warehouse and distribution center development adjacent to the docks.
Meanwhile, Lytle is serving as a consultant to the Port of Oakland through the end of 2019.
Exclusive Interview With Port of S.F. Maritime Director Coming Next Month
Port of San Francisco Executive Director Elaine Forbes appointed Andre Coleman the new maritime director for the Port of San Francisco last February.
In an exclusive interview with Bay Crossings next month, Coleman will share his thoughts on the strategic oversight and implementation of the port's maritime portfolio, including assets, services, operations and labor and client relations for the 7.5 miles of San Francisco waterfront that extends from Fisherman's Wharf to Islais Creek.
In the meantime, Coleman will provide the executive director and port leadership team with high-level direction on maritime initiatives, goals and objectives as he leads the maritime division and the portfolios for 28 employees.
Patrick Burnson is the executive editor of Logistics Management. www.logisticsmgmt.com