On September 26, Tideline Marine Group launched its latest passenger craft, the 75-foot, 149-passenger Peregrine.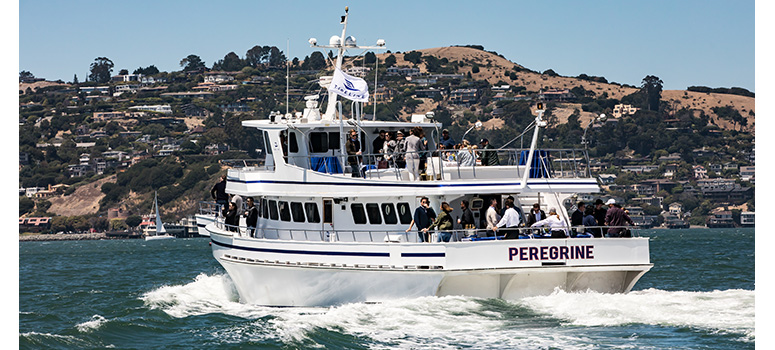 Last month, Tideline launched its fourth and largest ferry boat, Peregrine. The 75-foot, 149-passenger vessel is expected to eventually serve a Jack London Square-to-Mission Bay route. Photo courtesy of Tideline
BY DAN ROSENHEIM
Published: October, 2019
On September 26, Tideline Marine Group launched its latest passenger craft, the 75-foot, 149-passenger Peregrine.
The new ferry boat is Tideline's fourth vessel and by far its largest. The Tiburon-based private operator, which has financial backing from investment banker Richard Blum, operates two 45-passenger craft, as well as a smaller 20-passenger catamaran called Kestrel.
The addition of Peregrine represents a significant expansion for Tideline. Danielle Weerth, Tideline's director of business development, said the new boat will be used initially for cruises but that it is slated eventually for a Jack London Square-to-Mission Bay service. To hear company executives tell it, however, that is just the beginning of several more substantial moves.
Tideline says:
• It is nearing agreement on a labor contract with two maritime unions, the Inlandboatmen's Union (IBU) and the International Organization of Masters, Mates and Pilots;
• It hopes to put two more boats in the water before the end of the year, with additional boats to follow;
• It is close to agreements with several new business customers about providing ferry service for their employees and is also talking to smaller municipalities about commuter service.
During the first week of September, Tideline began using its new landing space at Pier 52 in Mission Bay to begin ferrying passengers from Marin County and Berkeley for concerts at the new Chase Center. "The runs have been great, and people are really happy about the service," Weerth said.
Currently, Tideline is the only ferry company servicing Chase Center events, and along with concerts it will be running boats to Golden State Warriors games, starting with the preseason home opener on October 5. A temporary dock at Pier 48½, which will serve both WETA and Golden Gate ferries, has been delayed but is expected to be ready for the October 5 Warriors opener.
Last month, Tideline also received a six-month extension from WETA on an agreement that lets the private operator use the public Harbor Bay Ferry Terminal in Alameda for Exelixis employee commuter runs to Oyster Point in South San Francisco. While the extension was shorter than the one-year deal Tideline had requested, it gave the private operator important breathing room in which to firm up new business and labor contracts. Those two things are closely related, because Tideline says it is building higher labor costs into the new business deals.
A collective bargaining agreement at Tideline would represent a major breakthrough for organized labor on San Francisco Bay, and it would also remove a potential obstacle to Tideline's growth. "The belief is a maritime company needs union recognition to grow," Tideline CEO and founder Taylor Lewis said in a recent interview. "It's part of the industry."
Currently, unions represent employees at both public ferry agencies, WETA and Golden Gate, as well as at the Bay cruise companies Red and White and Blue & Gold. But there are no unions at the privately held companies that provide regular ferry service, Tideline and Prop SF, nor famously at Hornblower, which provides regular service to Alcatraz, as well as sightseeing tours and cruises on the Bay.
Lewis declined to discuss the details of negotiations and noted that progress was slowed during the summer when union leaders were focused on a strike by ferry workers in Alaska.
But he added: "We are confident of making an agreement and are optimistic we will do so in the very near future."
Lewis expressed more optimism about a deal. "This has been an educational process for both sides. We are not a common carrier that gets government subsidies and has big vessels," Lewis continued. "But I have no philosophical problem with the unions. It just comes down to the brass tacks of a deal."
Union officials are also circumspect about details, but Robert Estrada, IBU regional director, described bargaining as "cordial and positive."
And as negotiations proceed, Lewis said demand for his firm's services is burgeoning. With agreements to use landing positions at more than 35 locations on the Bay, Tideline is well positioned to take advantage of that demand. "I really can't get enough new boats," Lewis said. "My job right now is procurement."
A Greenbrae native, Lewis attended the California Maritime Academy and skippered yachts for the Pasha Group, where he was the personal captain for the late George Pasha III for seven years, operating his company vessel Anticipation. Tideline was formed in 2012 in response to a request for water taxi service by the Port of San Francisco. It began with a single six-passenger boat, but has gradually grown its fleet and services.
"It's one knot at a time," said Lewis. "Slow and steady wins the race."
Now, though, while he declines to provide specifics, the pace is quickening. Lewis said he is pursuing agreements for more commuter service to private businesses, expanded tours and commuter service to smaller municipalities, as well as freight, calling the latter "very exciting." And Lewis took pains to emphasize that he views expanded commuter service as complementing, not competing with, the ferries operated by WETA and Golden Gate.
"Our whole model is community based, and we see a lot of opportunities," he said. "We want to work with WETA and Golden Gate to optimize service, and we have had very good discussions about that. It's only going to help the people get where they need to go"