In a partnership with the San Francisco Recreation & Park Department, Another Planet Entertainment, Superfly Productions and Starr Hill Presents will bring the Outside Lands Music & Arts Festival to San Francisco's historic Golden Gate Park August 22-24. Radiohead, Tom Petty & The Heartbreakers and Jack Johnson will headline the inaugural multi-faceted, three-day festival that will also feature over 50 other popular acts including Steve Winwood, Widespread Panic, Wilco and Beck.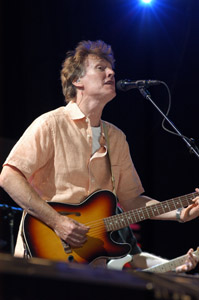 Steve Winwood will perform at the Outside Lands Music & Arts Festival.
Published: August, 2008
With six main performance stages, the music programming will represent a wide range of genres, including rock, blues, reggae, jazz, hip-hop, world, soul and Latin music. Local acts will also be featured prominently, representing San Francisco's vibrant cultural community.
A unique array of on-site activities will be available at the Festival as producers plan to treat patrons to an all-encompassing local experience with areas of the park dedicated to emerging technology, local wine and food with a special emphasis on sustainable green practices throughout the festival grounds.
Greening the Festival
Eco Lands, powered by PG&E, will bring festival attendees an interactive green experience featuring a solar powered stage, organic farmers' market and coffee bar, interactive energy efficiency exhibits, environmental education and a recycling center. The Solar Stage, provided by PG&E, will use solar panels to power all electrical equipment on the stage, serving as a working model for the versatility of solar power. Beyond Eco Lands the festival will reduce its impact on the environment by providing recyclable or compostable utensils, cups and plates and will have plenty locations to dispose of waste including hundreds of recycling and compost bins. PG&E's Climate Smart will purchase carbon offsets for the event, making it one of the largest carbon neutral music festivals in the country.
Local Wine & Food
A hundred years ago, the Bay Area was home to one of the world's largest wineries, Winehaven, located on Point Molate in Richmond, CA. The festival will pay homage to this landmark through the Winehaven Tent. The tent will showcase local vintners offering regional specialties such as a coastal Pinot Noir, old vine Zinfandel, Napa Valley Cabernet Sauvignon, sparkling wine cocktails and wines from San Francisco's newest winery Foggy Bridge. The festival is also going above and beyond the standard festival food by engaging the Bay Area's food resources. The festival will showcase fresh, locally grown organic produce and meat as well as featuring local restaurants that put the Bay Area on the map as one of the best places for discerning palates. You will be able to get freshly shucked oysters from Hog Island Oyster Company, grab a skewer of grilled beef and chicken from Asqew Grill, try Maverick's famous pulled pork sandwich, wolf down a burrito from Gordo's, or taste Hawaiian poke from Pacific Catch. And of course, you can still get a hamburger or hotdog, but both will be organic farm-raised meat with locally grown lettuce and tomato.
For more information on the Outside Lands Music & Arts Festival and a complete line-up of performers, visit www.sfoutsidelands.com.