PIER 39 commemorates the 24th anniversary of the sea lionsf arrival with the Sea Lion Encounter, January 17-20. Join Aquarium of the Bay naturalists for a free 20-minute educational walking tour including a special stop at the new Sea Lion Center.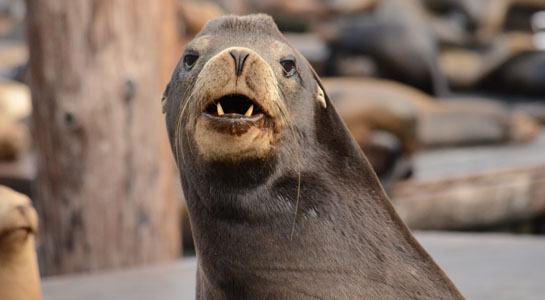 Photo courtesy of Aquarium of the Bay
Published: January, 2014
24th Anniversary of the Sea Lions' Arrival
PIER 39 commemorates the 24th anniversary of the sea lions' arrival with the Sea Lion Encounter, January 17-20. Join Aquarium of the Bay naturalists for a free 20-minute educational walking tour including a special stop at the new Sea Lion Center. The Sea Lion Center, operated and managed by Aquarium of the Bay, is a new educational nature center on Level 2 of PIER 39. The Center is the hub for all things sea lion, including interactive displays, educational videos and many fascinating presentations led by Aquarium of the Bay Naturalists. After the tour, join PIER 39's Salty the Sea Lion at Neptune's Waterfront Grill & Bar for complimentary refreshments. All tours start at the Sea Lion Statue on the west side of the PIER 39 Entrance Plaza. Tours depart daily at noon, 1, 2, 3 and 4 p.m. For more information on the new Sea Lion Center, see the story on page 11.
Seafood and Suds
Two Petaluma icons team up for one great event when Lagunitas Brewing Company hosts a crab feed for Cinnabar Theater. Enter the beer garden, step into a heated tent and enjoy loads of freshly caught crab along with salads, bread and desserts. Cinnabar's Crab Feed takes place on Tuesday, January 28 from 5:30 to 8:30 p.m. Get your claws on some delicious crab and crack a cold one at a feast that benefits Sonoma County's beloved professional theater. Tickets for the event are $55. To purchase a ticket or for more information, call (707) 763-8920 or visit www.cinnabartheater.org. But be sure to buy your tickets early, because last year sold out. Lagunitas Brewing Company is located at 1280 North McDowell Boulevard in Petaluma.
SF Design & Art Fair
The FOG Design+Art Fair will be showcasing San Francisco's position as a center of innovation for art and design January 17-19 at the Fort Mason Center Festival Pavilion with special preview events on January 15-16. Benefiting the San Francisco Museum of Modern Art, the event will feature more than 40 prominent design dealers from the Bay Area and across the country representing the disciplines of design (including vintage and contemporary), fine art and photography, and high-end craft from the early twentieth century to today. There will also be a selection of leading modern and contemporary art galleries (21POP), a special pop-up shop created by celebrated designer Stanlee Gatti and a dynamic lineup of lectures and interactive discussions with leaders in the design and art worlds. Exhibitor offerings will be presented in a dynamic layout in a classic modern design, complementing the art and design on view. Tickets for the FOG Design+Art fair are $15 online at www.fogfair.com and $20 at the door.
Winter WINEland!
Celebrate the 22nd Annual Winter WINEland and a great opportunity to meet winemakers, taste limited production wines, new releases or library wines. Some wineries will offer food pairings and others will have tours, but all wineries will have something on sale for the weekend. Download a detailed program to see exactly what each winery will offer for the weekend and then plan your tasting adventure. This event does not take place at one location—you travel from winery to winery, visiting the ones you are interested in exploring. The program and advance tickets are available at www.wineroad.com. Tickets are $45 for the weekend and $35 for Sunday only (plus service charge and tax). Ticket price includes wine tasting at all of the participating wineries for the weekend.
New SF Boat Show Invades McCovey Cove
On Thursday, January 23 through Sunday, January 26, McCovey Cove will be transformed into an in-water showroom for the inaugural Progressive Insurance San Francisco Boat Show, allowing visitors access to the larger in-water luxury motor yachts, sailboats and fishing vessels, plus daily on-water boating workshops for those who want boating lessons. Inside, Pier 48 will be filled with trailer boats, ski boats and marine accessories, in addition to daily educational opportunities and boating fun for all ages. Tickets are $12 one-day adult, children 15 and younger are free (when accompanied by an adult), and active military, fire and police personnel are free with ID. For more details, see the story on page 18.
Oakland Restaurant Week
Visit Oakland, in partnership with Visit California and the Oakland Restaurant Association, is proud to present the fourth annual Oakland Restaurant Week. During the week of January 17-26, more than 50 of Oakland's top restaurants will be offering a variety of fixed-priced menu options and special deals. Prix fixe meals will be offered for lunch, dinner or both at $20, $30 or $40. For more information and a listing of participating restaurants, visit www.oaklandrestaurantweek.org.
Hot Couture: The Fusion of Fashion & Fire
In one of their most popular productions every year, the Crucible's fiery fusion of fashion design and industrial art returns in January with two nights of wearable art, flame effects, performances, music, dance and more. Oakland's non-profit industrial arts education and performance space blends industrial arts such as welding, blacksmithing, fire performances and glass blowing with fashion for Hot Couture 2014: The Fusion of Fashion & Fire. Fashion designers and industrial artists will collaborate to bridge the two disciplines and bring you cutting edge looks, fresh concepts and a stunning setting. Hot Couture breathes fire into 2014 with new staging, effects and runways, and the first-ever public viewings of one-of-a-kind pieces from new and returning designers. There are three different runway shows each night on Friday and Saturday, January 10-11 at 7:30, 8:30 and 9:30 p.m. Doors open at 7 p.m. with limited VIP seating available. Ticket prices range from $40-$100. For more information, visit www.thecrucible.org.
Dine & Unwind at Jack London Square
On Tuesday, January 7, Jack London Square's Bocanova is hosting its January Rick's Supper Club with a slight twist and participating in the Oakland Restaurant Association's "Dine & Unwind" restaurant series. This month's dining series benefits the Oakland Lighthouse Community Charter School, and Bocanova will donate 15% of the dinner's proceeds to the school. Chef/Owner Rick Hackett has created a five-course, family-style menu featuring his ever-popular sustainable seafood dishes for $72.00 per person, including wine flight pairings. Bocanova's Sommelier Gerardo Acevedo and Wine Club Director David Fetcho will collaborate on wine flight pairings, highlighting the wines from Oakland's Stage Left Cellars. For more information or reservations, call 510-444-1233. To view the evening's menu, visit www.bocanova.com.
To have your event or announcement considered for the Bay Crossings Around the Bay listings, please send information or a press release to: joel@baycrossings.com.