Since 2001, sailors from around the world have come together on the summer solstice to create a global celebration of sailing called Summer Sailstice. On Saturday, June 21 the event will bring together everyone who loves wind, water and sail.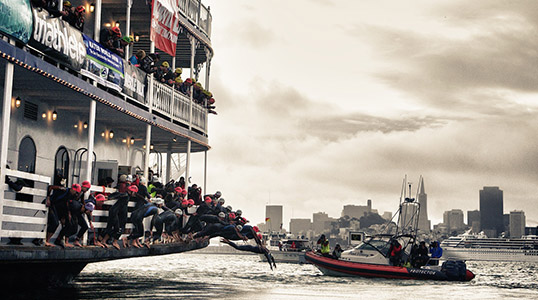 The Escape from Alcatraz Triathlon draws competitors from around the world. Photo by Rocky Arroyo
Summer Sailstice
Since 2001, sailors from around the world have come together on the summer solstice to create a global celebration of sailing called Summer Sailstice. On Saturday, June 21 the event will bring together everyone who loves wind, water and sail. You can sail in, motor in or just come down for a full weekend of sailing, cruising, racing, windsurfing and onshore entertainment at the Encinal Yacht Club (EYC) in Alameda. EYC will have space available for visiting boats on a first come, first served basis. In addition, there is plenty of free anchorage adjacent to the Summer Sailstice event and across the estuary in the area of Jack London Aquatic Center, and you can dinghy in from there. If you don't have a boat, don't worry. Sailboat rides are available with a nominal donation to Encinal Sailing Foundation, and you can also watch sailboat racing and enjoy live music at the festival village. There will also be a boat building contest, new sailboats on display, a sunset photo contest and seminars available. Admission is free and there will be live entertainment from noon to 8 p.m. For more information, visit
www.summersailstice.com/sf
or call EYC at (510) 522-3272.
Dancing Under the Stars
From experienced dancers to newbies, everyone is invited to Oakland's Jack London Square for an evening of rhythm, grooving and Dancing Under the Stars! Dancers will kick up their heels and pack Jack London Square for free dance lessons. The lessons begin at 8:30 p.m. at the foot of Broadway, followed by a dance party at 9 p.m. to try out all the new moves. For more information, visit
www.jacklondonsquare.com
or call (510) 645-9292.
Escape From Alcatraz
More than 2,000 triathletes from around the world will take over the streets and waters of San Francisco for the 34th annual Escape from Alcatraz Triathlon on Sunday, June 1 starting at 7:30 a.m. Sending racers on a challenging 1.5-mile swim from Alcatraz Island to the San Francisco shoreline, an 18-mile hilly bike ride out to Golden Gate Park and an eight-mile trail run through the Presidio, this high profile athletic event showcases the beauty of San Francisco. This world-renowned triathlon, in which only 2,000 pro triathletes, age groupers and relay teams can participate, is sold out within hours of the registration opening every year. Fans will not want to miss this world-class sporting event at the Marina Green, where they can see the swim start and end, the athlete transition areas and the finish line. Spectators are also invited to enjoy the free Fitness Festival & Expo throughout the weekend featuring dozens of vendors, product demonstrations, giveaways, music and food. For more information, visit
www.escapefromalcatraztriathlon.com
.
Live Oak Park Fair
The Bay Area's 44th Annual Live Oak Park Fair is set for June 14-15. Set in Berkeley's Live Oak Park at Shattuck Avenue and Berryman Street, this free two-day event will feature over 100 innovative artists and craftspeople. There is something for everyone, from the discerning collector intent on acquiring a gorgeous landscape painting to the young couple on the hunt for the perfect teapot, to the man in search of that unique piece of jewelry for his bride. The event brings together art collectors and connoisseurs of all things handmade, while serving as a compelling destination for foodies, families and fun-seekers. The fair showcases affordable contemporary art, fine crafts, handcrafted jewelry and accessories, couture adult and kids' clothing, handmade quilts and baskets, plus sculptural and functional objects in clay, fiber, glass, metal and wood. Ideal for families, the fair features children's entertainment, live acoustic music, and an incredible selection of delicious food that can be enjoyed in a comfortable seating area among the heritage oaks and redwoods or alongside the delightful meandering Codornices Creek. This year the fair will be bringing back the popular "Edible Tastings" presented by the magazine Edible East Bay. This is a special designated area in the center of the park featuring cheese, chocolate, jam, honey, maple syrup, mustard, tea, herbs, desserts and baked goods where fairgoers can enjoy samples by local food artisans, all at no cost. For more information, visit
www.liveoakparkfair.com
or call (510) 227-7110.
SF Green Film Festival
The San Francisco Green Film Festival (SFGFF) is the Bay Area's leading festival for films and discussions about people and the planet. Launched in 2011, SFGFF presents an annual film festival each spring, along with year-round community screenings and events in the San Francisco Bay Area. Attendees discover new films from around the globe and hear stories from people facing the world's most urgent environmental issues and creating the most innovative solutions. SFGFF brings critical and contemporary environmental issues to local audiences and, in the process, highlights the vital work of their many partners, including local businesses, schools and nonprofit organizations. With the mission to educate and connect communities through forward-thinking programs of environmental films and discussions the festival has partnered with over 50 community organizations, produced over 90 programs with 225 films, and inspired over 8,000 attendees. This year's festival runs from May 29 to June 4 and features over 50 new international films that explore sustainability and environmental action. The main venue will be the Roxie Theater on 3117 16th Street at Valencia. For more information, visit
www.sfgreenfilmfest.org
.
Waterfront Flicks
Cozy up by the waterfront on Ferry Lawn in Jack London Square on Thursday, June 12 for a free outdoor screening of the hit movie Gravity as part of the annual Waterfront Flicks series. Waterfront Flicks will host fan favorites at sundown throughout the summer. Moviegoers can start their evenings early with dinner at one of Jack London Square's waterfront restaurants, or pick up a quick bite from one of the casual eateries to enjoy during the screening. Plan to arrive early with blankets in-hand for pre-film festivities including small eats, trivia and giveaways. For more information, visit
www.jacklondonsquare.com
or call (510) 645-9292.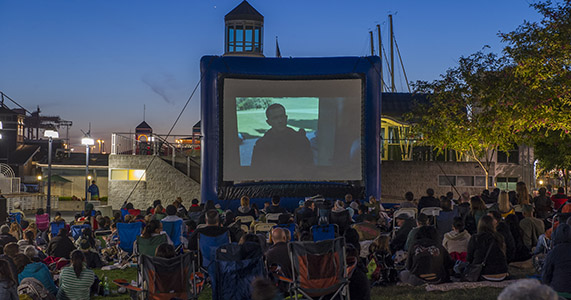 Free Waterfront Flicks at Jack London Square's Ferry Lawn.