In Barbary Coast Days, the San Francisco Bay featured passenger ferries that were venues for gambling, drinking and prostitution.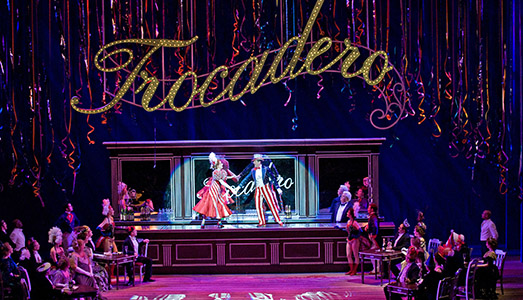 The San Francisco Opera summer season opens with Show Boat on June 1. Photo by Robert Kusel
By Paul Duclos
Published: June, 2014
In Barbary Coast Days, the San Francisco Bay featured passenger ferries that were venues for gambling, drinking and prostitution. Human trafficking, too, was hardly confined to the forced conscription of "Shanghaied" sailors.
Two major performing arts productions this month examine the oppressive nature of vice addressed in the great American Songbook, and contemporary opera.
Opera Parallèle presents the North American premiere of Anya17, composer Adam Gorb and librettist Ben Kaye's gut-wrenching, real-life story of women caught and destroyed in the sex trade. Conducted by Nicole Paiement, performances take place at 8 p.m. June 20 and 21 and 4 p.m. June 22 at San Francisco's Marines' Memorial Theater.
"These same tragedies are happening here in the Bay Area. Bringing Anya to life is a way for Opera Parallèle to use art to focus attention on this urgent issue as well as introduce audiences to a wonderful artistic experience through the music and poetry of Adam Gorb and Ben Kaye," said Paiement. "Anya17 illuminates four classic operatic themes in much the same way as many well-known masterpieces: the betrayal of Alban Berg's Wozzeck, the evil Golijov incarnated in Ainadamar, the justice Jake Heggie illustrated in Dead Man Walking, and the heartbreak of Puccini's Madama Butterfly."
Using cinematic techniques and nightmare-like flashbacks to convey the feeling of captivity and enslavement that pervades the sex trade, Resident Concept Designer and Stage Director Brian Staufenbiel brings the music to life. Described by The Sunday Times as a "marvel of boisterous inventiveness, albeit with a savage snap," Anya17 will be performed with the orchestra on stage, allowing specific instruments to propel the narrative at crucial moments in the opera.
A more prosaic but equally powerful story is contained in Jerome Kern and Oscar Hammerstein II's Show Boat, which opens San Francisco Opera's summer season on June 1 with nine subsequent performances through July 2. A watershed of American musical theater, Show Boat receives its company premiere in director Francesca Zambello's new, beautifully sung, smartly staged and handsomely designed grand-scale production. A beloved story of life on the Mississippi in the 1880s, Show Boat is both a poignant love story and a powerful reminder of America's bitter legacy of racism.
The score is filled with unforgettable songs such as "Ol' Man River" and "Can't Help Lovin' Dat Man," and the dazzling production features large, colorful sets, sumptuous costumes and exhilarating dance numbers. Of recent performances at Houston Grand Opera, the Houston Chronicle wrote "[This is] a towering work. There's a magnificence in its music, its narrative sweep, its deep awareness of something bigger than ourselves."
sfopera.com
Feeling nostalgic about Guys and Dolls, and the horse racing centerpiece of that great musical? Then get yourself over to Golden Gate Fields on June 7 to watch and wager on the final leg of the Triple Crown—the 2014 Belmont Stakes.
As in years past, GGF will also feature a wine festival on the grandstand apron with scores of our region's best vintners. Samples can be purchased individually or as a package. Packages include 15 samples, a souvenir wine glass and access to a light California-inspired food sampling from GGF's executive chef.
Golden Gate Field's Turf Club bar will also feature the Belmont Breeze—the official drink of the Belmont Stakes.
1 1/2 ounces of a good American blended whiskey 

3/4 ounces Harveys Bristol Cream Sherry 

1/2 ounce of fresh lemon juice 

1 ounce of simple syrup 

(1 ounce of sweet and sour mix may be substituted for the lemon juice and simple syrup) 

1 1/2 ounces fresh orange juice 

1 1/2 ounces cranberry juice 

1 ounce 7-Up 

1 ounce Club Soda
Shake first six ingredients with ice, then top with 7-Up and club soda. Garnish with mint sprig and lemon wedge.
Paul Duclos is the author of Flags of Convenience. Signed copies are on sale at the Bay Crossings store located in the center of the Historic San Francisco Ferry Building.