Jack London Square celebrates the start of summer with a packed calendar of free outdoor events on Oakland's iconic waterfront.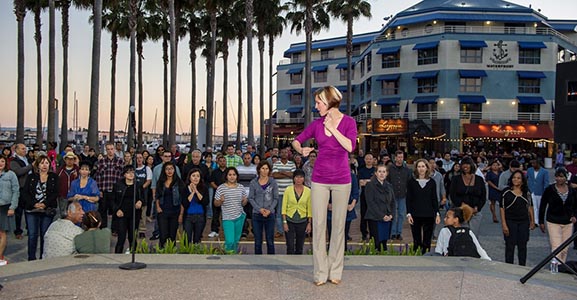 A dance instructor prepares the crowd at Jack London Square for the dance party that follows each lesson.
Jack London Square celebrates the start of summer with a packed calendar of free outdoor events on Oakland's iconic waterfront. From local hipsters to visiting foodies, this hub of activity offers something for everyone this June including the first-ever What the Truck! mobile gallery of fun, the return of Dancing Under the Stars, and the kickoff of the Waterfront Flicks summer film series.
For the first time ever, Jack London Square's What the Truck! extravaganza will fill the waterfront with a four-wheeled mobile gallery of food trucks, glam trucks, fashion trucks, gaming trucks, art trucks and much more on Saturday, June 21. Everyone is invited to shop, eat and enjoy this mecca of trucks, trailers and buses including: the CRUZin' Closet camper turned mobile kid shop; GoGoGlam's shoe, handbag and accessory boutique on wheels; a bus filled with artwork at Art is Mobile; San Francisco's first-ever fashion truck Top Shelf; mouth-watering grilled cheese from the Melt; Garden Party, San Francisco's first mobile florist; a mobile pinball arcade; and more!
Dancing Under the Stars, the Bay Area's favorite summer dance series, returns to Jack London Square this summer on Friday nights from June 6 through August 29. Dancers of all experience levels will kick up their heels for an evening of free dance lessons while grooving to different themes each week including the cha-cha, rumba, salsa and single-time swing. These festive, free dance lessons begin at 8:30 p.m., followed by a dance party at 9:15 p.m. to try out all the new moves.
Moviegoers are invited to cozy up on the waterfront this summer for outdoor screenings of hit movies as part of Jack London Square's Waterfront Flicks series. Free to attend, Waterfront Flicks will host fan favorites on Thursdays at sundown including Gravity and The Secret Life of Walter Mitty in June. From date night to family outings, moviegoers can start their evenings early with dinner at one of Jack London Square's waterfront restaurants, or pick up a quick bite from one of the casual eateries to enjoy during the screening. Moviegoers should arrive early with blankets in-hand for pre-film festivities including small eats, trivia and giveaways.
In addition to all the special events, visitors can dine at a variety of contemporary restaurants including Bocanova, Forge Pizza, Haven, Lungomare and more. Visitors can easily bike, ferry, BART or drive to Jack London Square. For additional information, visit
www.jacklondonsquare.com
.