Theatre lovers and those who cherish antiques will have much to look forward to this month.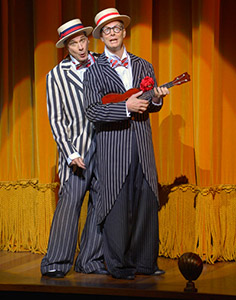 Tony Award-winners David Shiner (left) and Bill Irwin (right) in the West Coast premiere of the Signature Theatre production of Old Hats, performing at A.C.T.ís Geary Theater.
By Paul Duclos

Theatre lovers and those who cherish antiques will have much to look forward to this month.
Old Hats, the brilliant new play I discussed in my September column, has been extended through October 12 at A.C.T.'s Geary Theater. Fresh from New York's Signature Theatre, Old Hats features magic, slapstick, and the silent musings of comic actors Bill Irwin and David Shiner. Video and marvelous special effects also make this an engaging production.
Bay Crossings readers may recognize a familiar caricature of an annoying transit passenger in the best skit of the show, "The Businessman." In the skit, Irwin ridicules the bores we see (and hear) daily sporting the hottest high-tech gadgetry and abusing every rule of good manners imaginable. Pity, though, that the character is dressed like a conventional banker from the sixties; a more realistic model would be a contemporary hipster wearing a hoodie, cargo pants, and ironic Keds. www.act-sf.org
And then there's old stuff.
The San Francisco Fall Antiques Show, taking place from October 23 to 26 at Fort Mason, is the oldest and most prestigious continuously-operating international art and antiques show on the West Coast, and is recognized as one of the top five such shows in the world. The show features about 60 dealers from across the United States and Europe offering for sale an extraordinary range of fine and decorative arts representing all styles and periods—including American, English, Continental and Asian furniture, silver, ceramics, glass, jewelry, rugs, textiles, paintings, prints and photographs.
This show is vetted in cooperation with the Antiques Dealers Association of California to ensure the highest quality merchandise. Over 10,000 collectors from the Bay Area and beyond are expected to attend. www.sffas.org
Meanwhile, Slovakian conductor Juraj Valčuha returns to lead the San Francisco Symphony and pianist Garrick Ohlsson in Rachmaninoff's Piano Concerto No. 3, October 10 to 12 at Davies Symphony Hall. The program will also include Pulitzer Prize-winning American composer Steven Stucky's Jeu de timbres, along with complete performances of Bartók's The Miraculous Mandarin featuring the SF Symphony Chorus.
Jeu de timbres was commissioned and premiered by the National Symphony Orchestra under Leonard Slatkin in 2004. Steven Stucky describes the piece:
"Jeu de timbres spends most of its energy on rhythmic verve and luminous orchestral colors. There are two themes, to be sure, but the first of them, a descending line of splashy chords, is mainly about its own splashiness, and even the second, though it is an honest-to-goodness lyrical melody in the strings, would make a poor candidate for a symphonic working-out of the Beethoven or Mahler sort. The title (play, or game, of musical colors) both alludes to these Gallic tendencies in general and makes a small, specific inside joke: jeu de timbres is the French name for the orchestra bells or glockenspiel, an instrument that makes an occasional appearance in this piece. There are other inside jokes, too, including two admiring glances at works by Ravel—one oblique, the other (at the end) quite direct." www.sfsymphony.org
The SFJAZZ Collective will perform at the San Francisco Jazz Center on October 24. Some of jazz's most compelling improvisers and composers have come through the SFJAZZ Collective, a stellar octet founded in 2003 with a two-fold mission: to fuel the composition of new music and to celebrate the art of the modern jazz masters who enriched our musical life and language.
Every year, SFJAZZ's acclaimed resident ensemble—whose members have included such great musicians as Bobby Hutcherson, Renee Rosnes, Joshua Redman, Joe Lovano and Brian Blade—creates and performs eight new works and eight new arrangements of tunes by the selected honored artist, whether it's Ornette Coleman, Thelonious Monk or Stevie Wonder.
The current octet is a burnished international ensemble comprising alto saxophonist Miguel Zenón, tenor saxophonist David Sánchez, vibraphonist Warren Wolf, trumpeter Avishai Cohen, trombonist Robin Eubanks, pianist Edward Simon, bassist Matt Penman and drummer Obed Calvaire. They're playing their new pieces and the bracingly original music of Joe Henderson, the late tenor saxophone giant and composer who lived in San Francisco and was long associated with SFJAZZ. These performances will be recorded for the group's upcoming album, so by attending you can be part of SFJAZZ history in the making. www.sfjazz.org/centerpaulduclosonsanfranciscoculture.blogspot.com