PIER 39 invites you to join some special friends from the Disneyland Resort at the annual PIER 39 Tree Lighting Celebration on Saturday, November 22 and Sunday, November 23.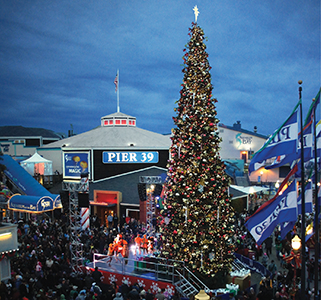 Published: November, 2014
Holiday Lights
PIER 39
PIER 39 invites you to join some special friends from the Disneyland Resort at the annual PIER 39 Tree Lighting Celebration on Saturday, November 22 and Sunday, November 23. Experience the magic, sing songs, give hugs to the Disneyland friends and welcome the holiday season with two days of holly-jolly magic and merriment for the whole family. The fun culminates at 6 p.m. each night as PIER 39's majestic 60-foot tree, adorned with glistening ornaments, bows and twinkling lights, will be illuminated against a stunning backdrop of the San Francisco skyline. Catch the spirit of the season at PIER 39. Visit pier39.com for details.
Embarcadero Center
Embarcadero Center is brightening the holidays this year with the 28th Annual Building Lighting Ceremony & Carnival on Friday, November 21. A perfect event to share with the family, the Carnival will kick off at 4 p.m. with a host of fun activities for the kids including carnival games, face painting, a visit from Santa & Mrs. Claus, cookie decorating, interactive arts and crafts booths, balloon twisters, musical performances, a very special appearance by Mickey Mouse, and more.
At 6 p.m., gather around the Holiday Ice Rink at Embarcadero Center for live ice skating and musical performances, followed by a sneak peek performance from Disney on Ice presents Let's Celebrate! Then tilt your head to the sky for a dazzling fireworks spectacular designed to complement the highlight of the evening —the initial lighting of Embarcadero Center's office towers, with a dramatic illumination of San Francisco's skyline, featuring 17,000 lights throughout the holiday season.
Union Square
Enjoy a Union Square tradition and kick off the holiday season at Macy's 25th Annual Tree Lighting Ceremony in Union Square on Friday, November 28 from 6-8 p.m. Enjoy live music, dance performances and very special appearances while waiting for that enchanting moment when Union Square's holiday tree is illuminated.
Yountville's Annual Festival of Lights
While they cannot promise a White Christmas, on the Friday after Thanksgiving the people of Yountville will transform their town into a magical winter wonderland nonetheless, using thousands of tiny (energy-efficient) twinkling lights. Celebrating its 26th year, Yountville's Festival of Lights invites friends, families, neighbors and visitors to play hooky from the shopping mall and gather in the heart of one of the world's most popular destinations for a feel-good family event to kick off the holiday season. Presales of tasting bracelets for the popular celebration are available now at the Yountville Welcome Center at 6484 Washington Street, online at yountville.com/events or by calling the Yountville Chamber at (707) 944-0904. The holiday celebration is Friday, November 28, 2-6 p.m.
Skating Away
Holiday Ice Rink at Embarcadero Center
Delighting families, couples and ice skating enthusiasts for over 25 years, the Holiday Ice Rink at Embarcadero Center opens each winter for nine magical, fun-filled weeks. Get ready to skate under the sun and stars along the beautiful waterfront at the largest outdoor rink in San Francisco. This year's skating kicks off on November 5 and continues through January 4. The rink is located just steps from the Ferry Building and the California Street cable car line. The ring of the bells and the lights of the Embarcadero make skating at the Embarcadero Center an "Only in San Francisco" experience. Admission is $10 for adults and $6 for children seven and under with skate rentals for $4. Tickets can be purchased online at embarcaderocenter.com or call (415) 837-1931 for more information.
Safeway Holiday Ice Rink
The Safeway Holiday Ice Rink in Union Square is a San Francisco holiday tradition that will kick off the ice skating season on November 5 with a lineup of jubilant and festive activities for all ages. The ice rink will remain open through Monday, January 19. The ice rink in Union Square is the premier location for outdoor ice skating amongst the vibrant lights and popular shopping destinations in San Francisco. The ice rink will be open daily from 10 a.m. to 11:30 p.m., with the exception of closing at 9:30 p.m. on Wednesday, December 31. Ticket prices for regular admission are $11 and $7 for children eight and under. Figure skate and hockey skate rentals are $6. Tickets will be available at the ice rink ticket window in Union Square Park, or you may buy advance tickets at www.unionsquareicerink.com. Group rates and private parties are also available.
Yerba Buena Ice Skating
Located in an urban rooftop garden at Yerba Buena Garden, the view of the City from the rink's wall of windows can only be described as dazzling. Open for public skating daily and skating lessons as well as private events and parties. Admission is $10 for adults, $8 for children/seniors (6-12 or 55+) and $6 for toddlers five and under or active military with skate rentals for $4. Visit www.skatebowl.com for more information.
Oakland Ice Center
Looking for good skatin' ice in the East Bay? The Oakland Ice Center at 519 18th Street provides public ice skating, skating lessons, birthday parties and more. Admission is $9 for adults and $7.50 for children under 12 with $4 skate rentals. For more information, visit www.oaklandice.com.
Patchwork Indie Art & Craft Festival
Look and shop art, knits, clothing, paper goods, accessories, housewares, artisan food and more at the Patchwork Indie Art & Craft Festival on Sunday, November 16 from 11 a.m. to 5 p.m. in Oakland's Jack London Square. Patchwork showcases 100+ curated local independent vendors with handmade goods. The event is free with DIY crafting and complimentary eco-gift wrap. For more information, visit www.patchworkshow.com.
Macy's Holiday Pet Adoptions
It's time to press your nose up against Macy's holiday windows featuring adoptable animals from the San Francisco SPCA. Over the past seven years, the holiday windows have helped the SF SPCA raise nearly $400,000 and find homes for over 2,300 animals. Join the SF SPCA and Macy's as our holiday ambassadors, Mayor Willie Brown and 49ers running back LaMichael James, unveil the magic at 5 p.m. on Sunday, November 16. The adoptable cats and dogs will be at Macy's throughout the holidays until New Year's Day. Take home your own bundle of joy from the SF SPCA adoption pop-up on Macy's main floor.