Jack London Square is set to light up the Oakland waterfront with its annual tree lighting extravaganza on Friday, December 5 from 5 to 7 p.m.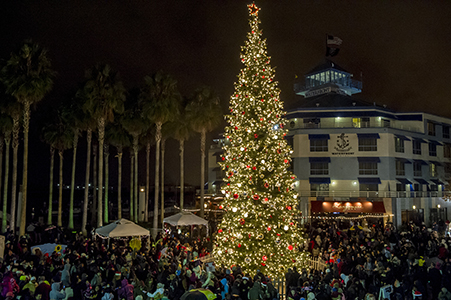 Published: December, 2014
JLS Tree Lighting
Jack London Square is set to light up the Oakland waterfront with its annual tree lighting extravaganza on Friday, December 5 from 5 to 7 p.m. On this special evening, a 55-foot Mount Shasta Fir Tree will sparkle with 5,000 white lights and 600 colorful ornaments surrounded by Santa's reindeer, tap-dancing Christmas trees, a jingle bell dance contest, the Oakland Ballet's Sugar Plum Fairies, cookie decorating, ornament making, a holiday pop-up with 90 local artisans, merry entertainment and more. Locals and visitors are encouraged to arrive early for magical surprises while enjoying festive music and merry entertainment with holiday characters roaming the Oakland waterfront greeting children and posing for photos.
Tidepool Adventure
Join Farallones Sanctuary naturalists for a tidepool adventure in Half Moon Bay on Saturday, December 6 from 2:30 to 5:30 p.m. Very low tides reveal life forms that have developed unique adaptations for living both on land and in the sea. Explore the amazing intertidal habitat at the ocean's edge while learning how these animals and algae survive under ever-changing conditions. Search for scuttling crabs, colorful urchins, chitons and flower-like anemones that call this biodiversity hotspot "home"—while learning important tidepool "etiquette" tips. The adventure concludes with hot chocolate and cookies. The cost is $10 per person and space is limited. Recommended for ages six and over, and minors must be accompanied by an adult. For more information, contact Sara Heintzelman at sara.heintzelman@noaa.gov or (415) 561-6622 x 237.
Holiday Candlelight Concerts in Marin
One of Marin's favorite holiday traditions returns with the Marin Symphony's holiday candlelight concerts in San Rafael. The highlight of the concerts will be the performance of three newly composed winter pieces by composer Ola Gjeilo for chorus, string quartet and piano. The concert will close with an opportunity for the audience to sing carols by candlelight with brass players from the Marin Symphony. The holiday candlelight concerts take place on Saturday, December 6 at 7:30 p.m. and Sunday, December 7 at 4 p.m. at the Church of Saint Raphael, 1104 Fifth Avenue in downtown San Rafael. Prices are $25 in advance and $30 at the door with a 20 percent discount for groups of 10 or more. For tickets, contact the symphony office at (415) 479-8100.
Berkeley Art Sale
Sip on cider, hot chocolate and sample other holiday treats as you preview works from top Bay Area artists at HERE, a Berkeley Art Center exhibition. Bring home one (or more) of the 250 pieces in the show for special holiday gifts, available for very affordable prices at their holiday art sale and open house on Saturday, December 6 from 11 a.m. to 5 p.m. A hands-on workshop will also be offered from 1 to 3 p.m. for the Mobile Mill, a pop-up traveling paper studio offering an alternative art-making space where new learners and practicing artists can collaborate. The Mobile Mill is essentially an automobile with incorporated machinery to make it possible for users to experiment in papermaking, while also learning how to repurpose paper waste. This is a free event that is open to the public. For more information, visit www.berkeleyartcenter.org.
Behind the Mask
The ICB Artists Association, a large, vibrant and diverse community of over 100 talented artists in Sausalito, invites you to cross over the ICB threshold into the world of the mask during its 46th annual winter open studios December 5-7. Located in a historic World War II-era industrial building, the lofts are home to artists working in all media, including painting, sculpture, photography, digital media, jewelry, printmaking, fiber arts, stained glass and much more. The group will present a mask exhibit during the three-day event with winter open studios on Saturday and Sunday from 11 a.m. to 6 p.m. and a preview on Friday, December 6 from 6 to 9 p.m. The event takes place at Gallery 111 in the ICB Art Center, located at 480 Gate 5 Road in Sausalito. For more information, visit www.icbartists.com.
Sebastopol Holiday Home Tour
Spend a delightful winter day touring five decorated homes and the historic Pleasant Hill Christian School in and around scenic Sebastopol, in the heart of Sonoma County wine country. Each location displays holiday spirit in its own unique way, showcasing collections and family traditions. A free artisan boutique will be open all weekend offering the work of dozens of local Sonoma County artists and crafters. Tour ticket prices are $10-$40. There is a nighttime VIP tour on Friday, December 12 from 6 to 9 p.m. and a daytime tour on Saturday, December 13 from 10 a.m. to 5 p.m. Proceeds benefit the scholarship fund at Pleasant Hill Christian School. For more information, visit www.sebastopolholidayhometour.com.
Harvest Time, Dude
The Emerald Cup will make its highly anticipated return to the Sonoma County Fairgrounds in Santa Rosa on December 13-14. For more than a decade, the Emerald Cup has become synonymous with setting the highest standards for sustainable, sun-grown, outdoor cannabis and is the largest, most respected, organic, outdoor, medicinal cannabis competition in the world, making it the definitive contest for the fall harvest. This year's entries will once again represent the best from Northern California and beyond with more than 300 expected entrants in four categories: flowers, edibles, solvent-less concentrates and topicals. The Emerald Cup event is about bringing medical marijuana providers, dispensaries and patients together and for patients to view all of the entries in this year's competition. The event includes workshops, guest speakers, panel discussions and an awards ceremony along with live music performances. The promoters are committed to strengthening the medical cannabis industry and hope that this year's competition shows how promising the future has become. Single-day tickets are $45 and weekend tickets are $80. For more information, visit www.theemeraldcup.com.
To have your event or announcement considered for the Bay Crossings Around the Bay listings, please send information or a press release to: joel@baycrossings.com.