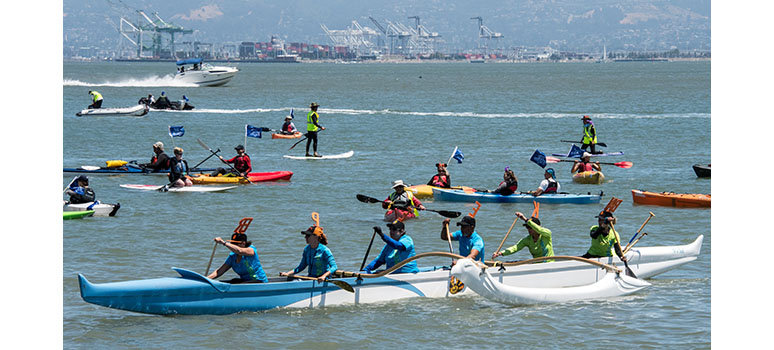 The Bay Parade is a once-a-year chance to get out on the water and celebrate a San Francisco Bay thatís clean and healthy for recreation. Photo by Robb Most
BY SEJAL CHOKSI-CHUGH
If you're a swimmer, kayaker, stand-up paddle boarder, boater—or someone who simply loves San Francisco Bay—you're invited
to be part of the sixth annual Bay Parade.
This event is a once-a-year chance to celebrate a San Francisco Bay that's clean enough for recreation on and in the water. The
Bay Parade is Sunday, August 11, with varied morning start times, depending how you choose to celebrate:
• Swim 6.5 miles, solo or in a relay team, along the San Francisco city shoreline, from the Golden Gate Bridge to McCovey Cove; or
• Kayak or stand-up paddleboard two miles along the San Francisco waterfront; or
• Cruise aboard a beautiful yacht with lunch and wine served; or
• Volunteer with your motorboat, sailboat, or rowboat for swimmer support; or
• Volunteer on land and help put on the Bay Parade.
Costumes, noisemakers and musical instruments are encouraged! Everyone will come together for the spectacular Bay Parade
finale in McCovey Cove. We'll raise a big banner showing our love for San Francisco Bay. And the finale will be broadcast on the
ballpark Jumbotron at the start of the Giants home game.
The celebration continues on dry land at the Bay Parade party, with yummy refreshments and bottomless beer from Anchor
Brewing.
Join this fun community celebration and show your commitment to the beautiful Bay we all love so much. Event proceeds will
support Baykeeper's work to stop polluters and defend San Francisco Bay from the biggest threats. Find more information and
sign up at baykeeper.org/bayparade. See you on the water on August 11!
Sejal Choksi-Chugh is the Executive Director of San Francisco Baykeeper. Since 1989, Baykeeper has been defending San
Francisco Bay from the biggest threats and holding polluters accountable. To report pollution in the Bay, call Baykeeper's hotline
at 1-800-KEEP-BAY (1-800-533-7229), e-mail hotline@baykeeper.org, or click "Report Pollution" at baykeeper.org.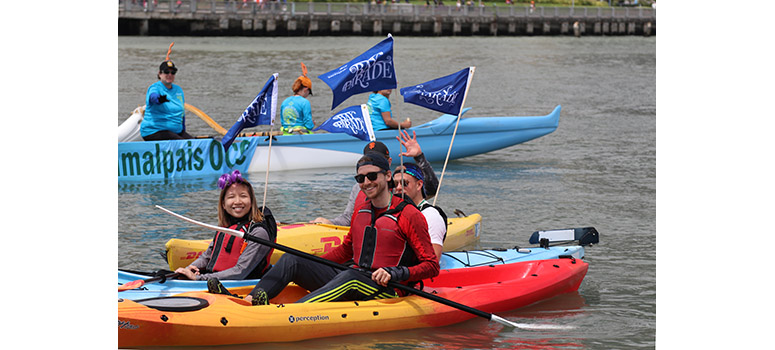 Bay Parade kayakers and stand-up paddleboarders paddle along the San Francisco waterfront. Photo by Clay Schmitz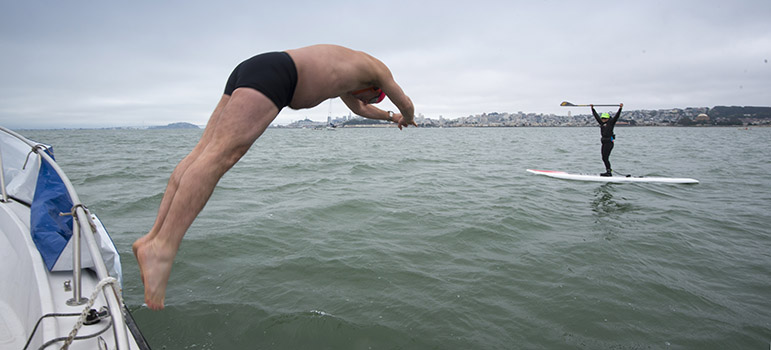 Bay Parade swimmers start at the Golden Gate Bridge and swim along the San Francisco shoreline to McCovey Cove, solo or in relay teams. Photo by Susanne Friedrich