Archives
October 2018

Around the Bay in October 2018
The SS Jeremiah O'Brien's annual San Francisco Fleet Week Cruise is coming up on Saturday and Sunday, October 6 and 7, sailing from 10 a.m. to 5 p.m. both days. More...
WATERFRONT ACTIVITIES
This year the exciting events of Fleet Week will return to the Bay Area! The Navy Blue Angels will once again take to the skies above the Bay for several jaw-dropping airshows. More...
Literary Hijinks and "Lady Gaga of Opera"
ZYZZYVA, San Francisco's acclaimed literary journal that has been publishing since 1985, is now out with its 2018 fall edition, featuring a number of new and veteran contributors. More...

Teatro Zinzanni to Return to San Francisco Waterfront
San Francisco is poised to recover one of its great theater and performance venues, Teatro Zinzanni, in a new mixed-use hotel project sponsored by TZK Broadway, which is a joint venture involving Teatro Zinzanni, Kenwood Investments and local hotel operator Presidio Hotels. More...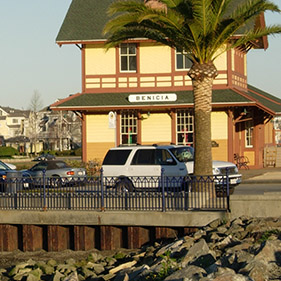 A Stroll in Benicia
It's a wonderful thing when two activities that you enjoy separately surprise you with a way to enjoy them together. More...

Bay Area Tech Company Wins California Climate Cup
The winner of the California Climate Cup was announced at the close of last month's Global Climate Action Summit in San Francisco. More...

Blue Angels Return for Fleet Week
The City of San Francisco welcomes the return of Fleet Week to the Bay Area from October 1 to October 8. More...

Bold Action Needed on Bay Level Rise
San Francisco Bay's water level is expected to rise over the coming decades. More...

Kevin Connolly
You might be on a ferry right now, or about to hop on board, or you may be savoring the lovely cruise you just took across the Bay. More...
Ports Join Climate Action Movement
When San Francisco hosted the 2018 Global Climate Action Summit last month, it brought together state and local governments, businesses and citizens from around the world to showcase climate action taking place. More...

Three Vallejo Councilmembers Must Recuse from VMT/Orcem Vote
A proposal to demolish historic structures and construct a private marine terminal serving large cargo vessels and a cement plant at the mouth of the Napa River has been a source of controversy in Vallejo for the past six years. More...

ON OUR COVER October 2018
The City of San Francisco welcomes the return of Fleet Week to the Bay Area from October 1 to October 8. More...