Archives
November 2018

Around the Bay in November
Come celebrate the 75th Anniversary of two great World War II museum vessels, the USS Pampanito and the SS Jeremiah O'Brien, on Saturday, November 10 from 6 p.m. More...
WATERFRONT ACTIVITIES
Climb aboard the classic schooner Seaward and see San Francisco from the water! Take in an unmatched view of the city front as you sail by famous San Francisco sights such as the Golden Gate Bridge, Alcatraz, and Angel Island. More...

Don't Jump! It's a Wonderful Life
November ushers in the holiday season, with its complex set of demands and commitments. For some of the most desperate among us, it's enough to make you jump. More...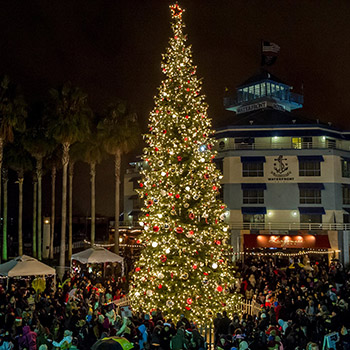 Tree Lighting Ceremony Returns to Jack London Square
The annual Tree Lighting Ceremony at Jack London Square, Oakland's favorite holiday tradition, returns Friday, November 30. More...

MY FIRST BORA
It's about 2:30 p.m., Wednesday, September 26, 2018, and I'm in the town of Slano on the Dalmatian coast of Croatia. More...

Controversial Rate Increase for Community-Based Energy Programs
The Power Charge Indifference Adjustment (PCIA) increase approved last month by the California Public Utilities Commission (CPUC) will raise fees paid by consumers who switch from a legacy utility like Pacific Gas & Electric to a community-based utility program. More...

Marin Transit Welcomes First Zero-Emissions Buses to Fleet
Marin Transit celebrated the arrival of its first two entirely electric, zero-emissions buses on Tuesday, October 16 outside the Marin Veterans' Memorial Auditorium. More...

The Battle for the Bay's Colorful Salt Ponds
If you've travelled by plane over the Bay Area, you may have seen the bright red, orange and yellow ponds in south San Francisco Bay. More...

Carl Carr-Johnson
​Regular commuters on the Vallejo-San Francisco run will probably recognize Carl Carr-Johnson, who works as a deckhand for Blue & Gold Fleet. More...

Navigating Foreign Trade Zones in the Current Environment
As the U.S. government wages its next round of trade wars with China and other perceived belligerents, Bay Area logistics managers will have to become more creative. More...

ON OUR COVER
Marin Transit introduced two new zero-emission buses at an event last month. More...