Archives
February 2018

Around the Bay in February 2018
Enjoy an afternoon like no other at Contra Costa Humane Society's Best in Show 2018 on February 11 from 2 to 5 p.m. at the Concord Hilton, 1970 Diamond Blvd. More...
WATERFRONT ACTIVITIES
Travel to Tanzania during the annual birthing season and the wildebeest migration on the Serengeti Plains for a once in a lifetime experience. More...
Valentine's Day Suggestions
Anti-romantics may find solace, enlightenment and entertainment at major events staged in San Francisco this month. More...

SF Beer Week Celebrates Ten Years
San Francisco Beer Week returns February 9 to 18 for the 10th installment of this ground-breaking celebration of craft beer, food and community all across the region. More...

Design Competition Seeks Climate Solutions for Bay
Six months ago, local leaders concerned about the impact of climate change on the Bay Area's waterfront communities kicked off the Resilient by Design Bay Area Challenge and asked architects, engineers and designers to come up with innovative ideas for mitigating the effects of global warming on 10 Bay Area sites identified as being at risk. More...

A Vote for Regional Measure 3 in June Will Bring Congestion Relief
Traffic in the Bay Area is worse than ever! In a recent public opinion poll, 85 percent of those asked said that traffic was worse in 2017 than in 2016. More...

San Francisco Ferry Building Expansion Project Update
Ferry ridership is at an all-time high. Gate E at the San Francisco Ferry Terminal accommodates four ferry routes (Alameda, Oakland, Harbor Bay and South San Francisco), serving more than 10,000 passengers daily. More...

Sturgeon: Quiet Giants of the Bay
Compared to some of our wild neighbors around the Bay Area, we're all newbies to California. More...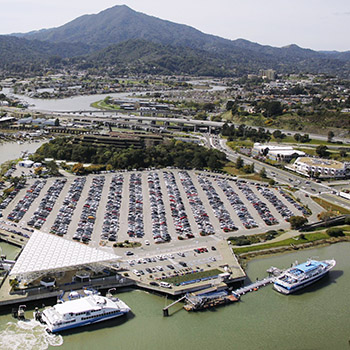 Alternatives to Parking at the Larkspur Ferry Terminal
The Golden Gate Larkspur Ferry Terminal main and overflow parking lots often fill to capacity by 9 a.m., especially after the recent loss of the upper overflow lot to SMART for construction of the last southern segment to link the Marin train service with ferry service to San Francisco. More...

Mike Donnelly
Only an avid commuter may notice, but while many crew members on Bay Area ferries are on board five days a week, others may only show up once or twice, never to be seen again. More...

2017 Was a Record-Setting Year at the Port of Oakland
Last month we reported that Port of Oakland's containerized import volume for 2017 was on a pace to exceed inbound throughput for all previous years. More...
ON OUR COVER February 2018
A $4.45 billion package of congestion relief projects known as Regional Measure 3 (RM3) will be on the June 5 ballot in all nine Bay Area counties. More...