Archives
June 2002

Governor Gray Davis on Bay Area Water Transit
Transportation politics are always high strung, even more so when the budget is tight and ludicrously so during election season. Bay Crossings spoke with Governor Gray Davis about what the political future holds for water transit. More...

Sands of Time Running Out on Era of Plentiful Sand
Everyone wants to live, work and play on the hip new waterfront so there's less and less room for the traditional working waterfront. In the case of sand, unsightly loading facilities are giving way to lofts and parks and the ramifications are serious: greatly increased building costs, pollution and traffic. More...

PortFest a Party with Panache
Once a year, the Port of Oakland lets what hair it has left down and throws a party for whole City. This year there was something special to celebrate: a new management group has taken over beleaguered Jack London Square and exciting changes are in the works. More...
St. Francis Yacht Club to Fear: Not
To his surprise, our intrepid reporter David Fear discovers that the venerable St. Francis Yacht Club is on City Rec and Park property paying but token rent. He tries to squeeze in on the deal but the Mandarins of the St. Francis Yacht Club have other ideas. More...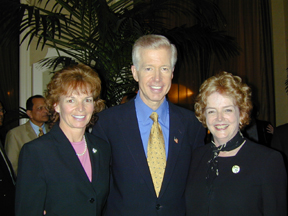 Bay CrossingsInterview
Governor Gray Davis on Bay Area Water Transit More...
Bay CrossingsJournal
My Dad Died In The Dining Room With A Smile On His Face More...
Columbus Replica Ship Nina to Visit Port of Redwood City for Public Tours June 19-30
A replica of the Niña, one of the three ships which Columbus sailed to the New World, will make its first visit to the Port of Redwood City in eight years for an 11-day stay in June 20-30, Board Chairman Jack Castle announced today. More...
A Curmudgeonly Review of the Ferry Plaza
Sitting at the foot of Market Street is our own, homegrown icon – the Ferry Building. A rare survivor of the big quake and fire of 1906, she proudly reminds us of the time of Empire, when ferryboats brought some 45 million a people a year into the city, some from the Key System's "Eastshore Empire" and others from the Northwestern Pacific's "Redwood Empire." More...
Council Adopts Strong Ordinance to Help Keep Redwood City Waterways Clean, Safe
The City Council of Redwood City has adopted a tough, new ordinance regarding abandoned boats and other hazards in its waterways. The "Redwood City Harbor Administration" ordinance also provides enforceable regulations for water craft speed limits, noise limitations, overnight mooring and anchoring, and pollution. The new ordinance is the result of more than a year of work by the Redwood City Police Department, City and Port staff, the Board of Port Commissioners, and members of the City's Pride and Beautification Committee. More...
Sausalito/Marin City Marine Center Grand Opening June 1st
BoatU.S. Celebrates 10-Year Partnership with Recreational Boaters of California (RBOC) with Presentation of $10,000 Check BoatU.S., the nation's largest association of recreational boat owners with over 530,000 members, will present a $10,000 check to the state's leading boater's advocacy organization, Recreational Boaters of California (RBOC), at 1:30 p.m., Saturday, June 1, during the Grand Opening of the BoatU.S. Marine Center in Sausalito/Marin City. BoatU.S. Chairman and Founder Richard Schwartz will present the check to Russ Robinson of Cupertino, who as RBOC Vice President-North represents the interests of all California boaters. More...
COLORS OF THE TIDE
My first dramatic recognition of tidal effect was in 1980, watching a 50' race boat, in town for the Big Boat Series, trying to get by Pier 39 heading to South Beach Harbor. It had a tall mast, over 65', with Spinnaker, Blooper, winged out main, crew positioned to maximize air flow, and yet it was going backwards, slow but steadily being pulled toward the Golden Gate. That was an impressive amount of sail power all drawing and full, still the boat could not make "head way". It could not go forward against the San Francisco Bay tidal forces. A boat out away from the shore in the middle of the channel was going by this big boat with only basic white sails up. We looked, as did those aboard the big racer, and nope, no engine. So how did that work? Tides and the current that move them. More...
San Francisco Maritime Park's Annual Pyrotechnic Fundraiser
Fireworks Viewing And Dinner Party Thursday, July 4, 2002 More...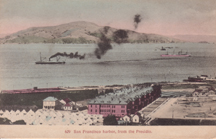 Bay CrossingsCover Story
SAND CASTLES Sands Of Time Running Out On Era Of Plentiful Sand – Bay Economy Threatened More...
New YorkReport
At the the MWA¹s Waterfront conference held on May 15th, there was general agreement from political leaders that there is a crying need to greatly increase awareness of this unique resource. More...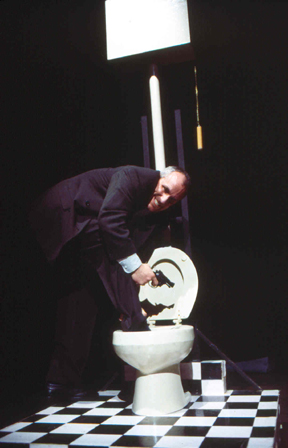 TheaterReview
MetamorphosesStrangely, these three plays have something in common. They are all recounted in the oldest form of theater, storytelling. The actors represent the character. There is an obvious distance between actor and character, so that you always know the actor is acting; rather than the actors submerging themselves in the character. There seems to be a lot of that theater around now. More...
HarborHistory
The cries of "Colgate", "Liberty Harbor" and "Exchange Place" are familiar ones now to ferry travelers between Manhattan and Jersey City. But before 9/11 and the destruction of the PATH connection, few ever visited this pleasant community of giant office towers and well kept, 19th century brownstones. Known to the purist as Paulus Hook, this part of Jersey City has, like much of the New York harbor waterfront, layers upon layers of history upon which we commuters can reflect. More...
OnSouthStreet
Back in my days as a tailback at the Merchant Marine Academy, Coach Cavitation used to say the best defense is a good offense, or was it vice versa…. It seems to me sitting at St. Maggie's, five short blocks away from a huge hole in the financial ground, that perhaps both are true. More...
A Guide to San Francisco Bay Ferries (and what to do when you get there)
A San Francisco Bay ferryboat ride is a sublime experience of the first order. Figuring out which one to take can be a bit daunting because there are many ferry companies and no centralized schedule. But with the tiniest bit of planning it's possible for anyone, visitors and Bay Area residents alike, to quite easily experience the romance and unspeakable beauty of a short cruise on the Bay. And it costs surprisingly little. The commuter ferries present an especially attractive deal. Here's the basic skinny on what's available: More...