Archives
June 2018

Around the Bay in June 2018
Come on out to the Oakland waterfront this summer to enjoy free outdoor screenings of Hollywood blockbuster favorites, every other Thursday evening at sundown on the Jack London Square Ferry Lawn. More...
WATERFRONT ACTIVITIES
This five (5) day course provides training to mariners who wish to obtain a USCG endorsement as a Radar Observer (Unlimited). More...

San Francisco Opera and Symphony Stage Masterpieces This Month
Working behind the scenes at San Francisco Opera's The Ring and San Francisco Symphony's semi-staged performances of Mussorgsky's opera Boris Godunov are two remarkable artists who might otherwise not receive the recognition by audiences they deserve. More...

New Restaurants and Entertainment Arrive at Jack London Square
It's all fun and games this summer as Jack London Square welcomes a diverse array of new restaurants and the state-of-the-art gaming venue Esports Arena Oakland to the waterfront! More...

What a Day!
It was one of the most memorable and active weather days I've ever experienced. More...

Summer Sailstice 2018: Alameda Declares June 'Water Sports Month'
The annual summer solstice kicks off the summer season with lots of daylight and numerous ways to enjoy one of the Bay Area's best features-the Bay itself! Renowned worldwide as a sailing mecca, the Bay draws new sailors from its shores on a regular basis. More...

In a Groundbreaking Move, California to Require Solar in New Homes
The California Energy Commission (CEC) has updated energy efficiency building standards to require that all newly constructed homes be outfitted with solar systems beginning in 2020. More...

Bay Area Leaders Make Final Pitch for RM3
Last month, mayors Mark Farrell, Libby Schaaf and Sam Liccardo joined forces at the San Francisco Ferry Building and called for voter action in support of Regional Measure 3 (RM3)-a June 5 ballot measure that will bring significant transit improvements and traffic congestion relief to the Bay Area. More...

Celebrate the Bay in the Bay Parade
If you love San Francisco Bay, you're invited to spend an unforgettable day on the water-for a great cause. More...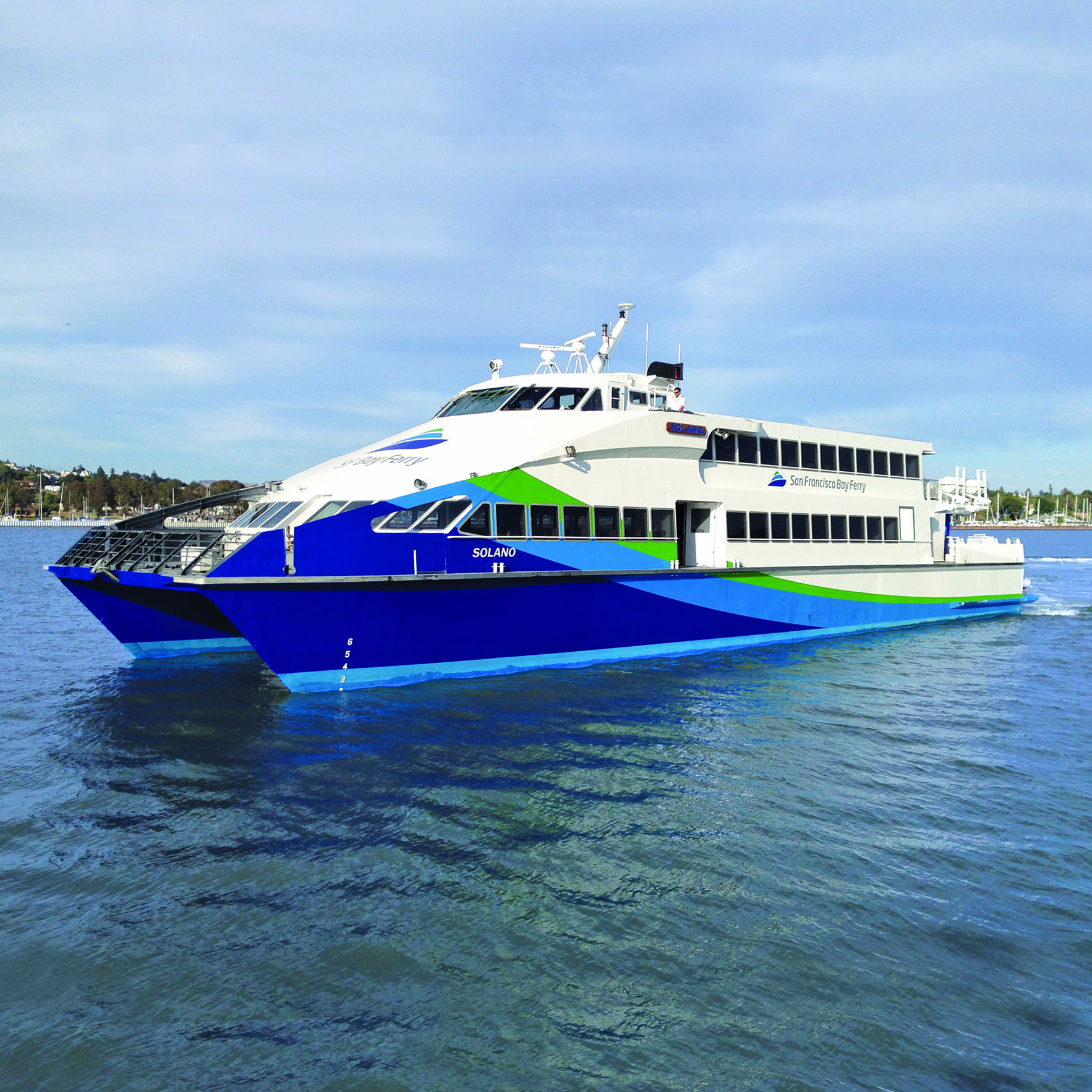 WETA Wins $5 Million Federal Grant to Refurbish Ferry Vessel
The Federal Transportation Administration (FTA) awarded WETA a $5 million 2017 Passenger Ferry Grant Program grant for the mid-life refurbishment of the M.V. Solano, a high-speed passenger vessel operating on WETA's Vallejo/San Francisco route. More...

The Bay Institute Announces 26th Annual Environmental Awards
Each year, the Bay Institute recognizes individuals who have helped improve and inspire conservation of the Bay and its watershed. More...
Port of Oakland to Negotiate With Oakland A's Over Potential Ballpark Site
The Port of Oakland Commissioners recently approved exclusive negotiations with the Oakland A's in the team's search for a new ballpark. More...
'GoPort' Projects Awarded $187 Million in Gas Tax Grants
The California Transportation Commission (CTC) last month announced the award of $187.4 million in 2018 Trade Corridor Enhancement Program Grants funded by Senate Bill 1-the statewide gas tax enacted in 2017-to construct two projects as part of the Global Opportunities at the Port of Oakland ("GoPort") Program: the 7th Street Grade Separation (East) and the Freight Intelligent Transportation System. More...

Priya Clemens
If you keep up with the local news, you may recognize Priya Clemens, who is now the director of public affairs for the Golden Gate Bridge, Highway & Transportation District. More...

Bay Trail and Vallejo: (Never) Mind the Gap
Since 2015, community activists in Vallejo have been fighting a proposal to build a cement factory on the Bay's edge. More...

Port of Oakland Online Shipping Platform Goes Live
Given that the Bay Area is home to world-class technology and innovation, it's not surprising that the Port of Oakland has embraced the latest technology to deliver advances in logistics and supply chain management. More...

ON OUR COVER
Regional Measure 3 (RM3) will on the upcoming June 5 ballot. More...