Archives
July 2002

Tracking the Transit Taliban
Our intrepid correspondent David Fear dives into the hot-blooded passions of fervent anti-toll protestors and the politics of the Golden Gate Bridge District. More...

Ferry Building Update
The fourth in our continuing series of behind-the-scenes peeks of the loving restoration of San Francisco's historic Ferry Building, which is nearing completion. Our guide Dylan Berry, construction manager for the project, shows us around. More...

Dirty Bombs Giving you the Heebie-Jeebies?
Worried about Port Security? Ray Boyle, the man in charge of coordinating security for the Port of Oakland, explains what the Port of Oakland is doing about it. More...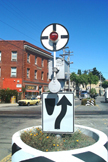 Going Wiggy over Wig-Wags
The beautiful waterfront community of Richmond is blessed with many natural gifts, not least the most Bay waterfront of any other community. It also is home to the historic Wig-Wags, historic train markers that the railroad wants to replace as obsolete and the community is fighting to preserve More...
Bay CrossingsJournal
Before I-69 cut a wide swath of birch, maple and pines, bulldozing old logging trails, Rip and I walked those endless paths, jumping at the whirl of partridges who leapt into the air as we approached, then pausing to watch the orange caterpillars make their way across a fallen leaf. Rip bent down, sniffed, backed off, continued on, always leading. The sun as our compass, we wandered northeast, treading softly on pine needles in the green glades accompanied by the sound of wind rocked pines, the penetrating shrill of a red tailed hawk. More...
Angel Island Victorian House Tours
Angel Island Victorian House Tours More...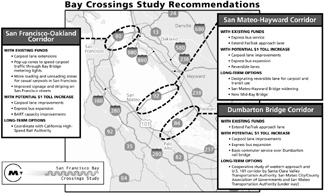 MTC's Bay Crossings Study: More Than Just Talk
The San Francisco-Oakland Bay Bridge opened to traffic on November 12, 1936 and had its first traffic jam the very same day. It's hard to tell whether hopeful talk of a new "Southern Crossing" began that day, but it wasn't long before Frank Lloyd Wright had unveiled his design for a butterfly-wing bridge that would span San Francisco Bay. More...
Bay CrossingsBay Environment
The Summer of the Ferry is upon us. During the hot and foggy days months ahead, the Bay Area will be asked to weigh in on plans to expand the Bay's ferry fleet. After more than a year of study, next month the Water Transit Authority will release its master ferry proposal and environmental report. At public hearings in September and October, we can decide what routes and types of vessels we want based on the extensive inquiry conducted by the WTA and its legions of consultants. Recent WTA sessions have forecasted two key elements of the plan: the vessel types and air emissions goals, and possible routes for an expanded commuter ferry system. More...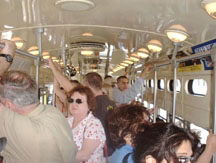 The F Word Line – A MUNIficent Mess
Ferry commuters who use MUNI's F-Line up the Embarcadero receive a daily dose of abuse. Punishingly brutal crowding is the standard fare, as hundreds of commuters try to cram into the antique streetcars that clank their way up and back. MUNI has long been aware of the problem, but has yet to take any action that alleviates the severe overcrowding and instead, trumpets it as a "success." More...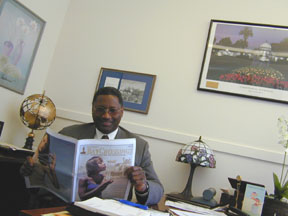 Bay CrossingsReader of the Month
Bay CrossingsReader of the Month More...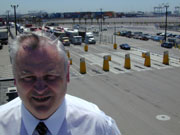 Worried about Port Security? Port Says it's O.K.
Everyone is filled with trepidation about what al Qaeda's next move will be and reports that less than 2 percent of containers moving through the nation's seaports are checked are hardly reassuring. We sat down with Ray Boyle, General Manager of Maritime Operations for the Port of Oakland, and the man in charge of coordinating the Port's maritime security plan, to find out what's up. More...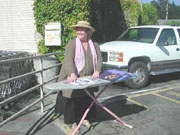 TakingWaterTransitto the Streets
Grassroots Support for Ferries in Albany & Berkeley More...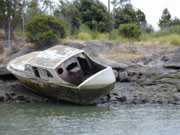 Working Waterfront In their own words
Owner of Perfection Marine Yacht Sales More...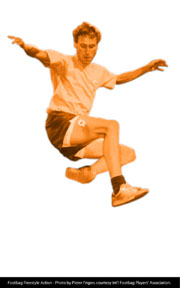 Twenty-Fourth Annual World Footbag Championships To Be Held In San Francisco August 8 – 11
You may think of it as "hacky-sack," but the name of the sport is footbag — and the world's most amazing practitioners will converge on San Francisco in early August for one of the most unusual and captivating athletic competitions of the year. It's the 24th Annual World Footbag Championships Footbag comprises two primary disciplines: Net and Freestyle. More...