Archives
August 2002
Why not a Floating Bay to Breakers?
Thousands of Bathtub races, in which folks let their imaginations and inhibitions run riot, take place in waterfront communities across the country. With the Bay Area rediscovering protected inlets like San Francisco's Islais Creek, the Oakland Estuary and the North Bay's Carquinez Strait, will Bathtub Races on the Bay become a new outlet for the zany? More...

Take the Jeremiah O'Brien to Sacramento
The noble story behind the restoration and upkeep of the World War II Liberty Ship the Jeremiah O'Brien is oft told. The public can become part of this floating legend in a rare opportunity to join the volunteer crew on a cruise to Sacrament. More...

What's Doing in the Carquinez Strait
Vallejo ferry riders travel the Carquinez Strait every day, but to most everyone else in the Bay Area the wonders of this fascinating waterway are a well-kept secret. Take a gander at the rich variety of places to go, people to meet and things to see. More...

Jack London Square Gets Hip
Oakland's Jack London Square has long been the kind of place only a Communist central planner could love. But exciting changes are in the works and this keystone of the East Bay waterfront figures to play an exciting and important role. More...
Letters tothe Editor
The Transit Taliban Respond More...
Editorial Raise all the Damned Bridge Tolls to $5
Three cheers! The Golden Gate Bridge toll has been raised to $5! But more needs to be done. SUV fetishists were appalled that the Golden Gate Bridge District would suggest they pay their fair share. When the usual attempts to bully and shout down toll increase proponents failed to work, outrage by the car fanatics turned to worry: might California's long love affair with the car be on the rocks? More...
Bay CrossingsJournal
Staring down into the dark shrouded waters of Alameda estuary, I held my breath and slowly exhaled. The backdrop of dawn clipped the top of the Oakland Hills. Two coots and one cormorant were drifting with the outgoing tide. I could hear the megaphoned shout of the Berkeley coach urging her crew of young women to sweep their oars at a steady pace. Vaguely, I could make out a tug inbound from the Bay pushing a black barge up the estuary. My exhale brought little relief. This was my last day on the water on my beloved sailboat, Bele Chere. More...
Alameda Offers New Ferry Contract
The City of Alameda is less than pleased that the only serious contract ferry operator on the bay now wants a cost plus contract to run the ferry service. Having just stuffed nearly $250,000 more into the operating contract and reducing morning service to save costs, Alameda is beginning to wonder just how much more it will take. Since the funding needs to be in place in advance, a cost plus contract could mean diminished ferry service on the Alameda–Oakland run towards the end of each year, if the costs exceed what is anticipated. More...
Can We Afford More BART?
Locally known as "Bay Area's Recurring Tragedy," BART was a grand vision when it was first conceived in 1957. National City Lines (the private owner of the Key System) was desperate to get rid of its unsubsidized and money-losing electric railway across the Bay Bridge. But the commuting voters wouldn't allow this service to be axed unless there was a replacement being planned. And for the conspiracy buffs out there, National City Lines was owned by a consortium that included General Motors, Firestone Tire, Standard Oil of California, and two other parts manufacturers who by 1949 had purchased transit systems, replaced trains with buses (from GM, using Firestone tires burning Standard Oil fuel), and then re-sold the companies. GM was fined a paltry $5,000 by the Chicago Federal Court for engaging in monopolistic behavior. More...
Bay CrossingsBay Environment
Bridge toll increases on the Bay Area's seven state bridges could ensure cleaner ferries for San Francisco Bay. All ferry riders, environmentalists, and public health advocates need to do is make sure that any new ferries built or operated using toll dollars must meet the low-emissions vessel standard proposed by the Water Transit Authority. More...
Robert Gray Charters Offers The Maritime History Tour
Enjoy a trip on The Robert Gray, a tugboat that can carry 12 passengers, 6 crew, is 120 feet and had three decks. This is the only tour that explores San Francisco's maritime history, past and present. More...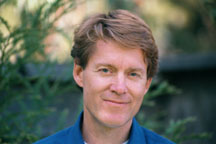 He's at it again…. Russell Long, Crusader for Environmentally Sound Ferries, Cooks Up Coup
Governor Davis has signed into law the first bill in U.S. history to regulate global warming pollution from cars and light-duty trucks, ending a contentious two-year campaign. Assembly Bill 1493 puts California at the forefront in reducing greenhouse gas emissions, the primary cause of global warming. And Russell Long, the determined dynamo responsible for the Bay Area push for environmentally friendly ferries, is the man responsible. More...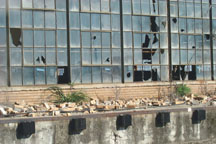 Ferry Service Headed Back to Richmond
The group selected to turn Richmond's old Ford assembly plant into a $55 million waterfront center for creative and performing arts says it will bring ferry service back to Richmond. More...

California Canoe and Kayak Hosts 9th Annual Race for Treasure
California Canoe and Kayak presents a race for canoes and kayaks welcoming paddlers of all kinds August 3rd at Jack London Square. New this year will be a Teen Challenger for kids ages 13-17. Proceeds support the City of Oakland's Lake Merritt Camp Scholarship Fund. Last year, proceeds from the race allowed 40 young people to attend Mariner Day Camp. More...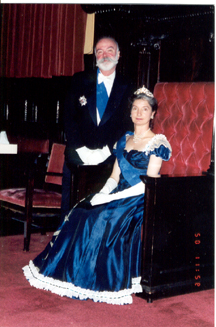 Alameda Legacy Home Tore
Alameda is home to an extraordinary collection of Victorian masterpiece homes. The "isle of style" was for many years home to a gritty naval air base but since that closed has been a beacon for eager home-buyers. The Alameda Legacy Home Tour is an annual event that offers a peek behind the beautiful facades of some of the Bay Area's most beautiful Edwardian homes. Getting into the spirit of things here are Pat Powell and Elizabeth Herbet. More...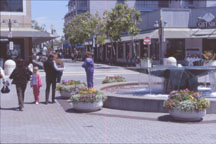 Jack London Square: A New Transit Gateway to Oakland
Because four separate modes of public transportation converge upon or near Jack London Square, ferries, buses, trains, and BART, the Water Transit Authority (WTA), a regional ferry-planning agency, understands that Jack London Square can be a model for making good transit connections. When the California State Legislature created the WTA, it tasked the agency with planning for not only ferry expansion, but for convenient transit connections that give commuters and visitors the option of arriving at their destination without the use of a car. More...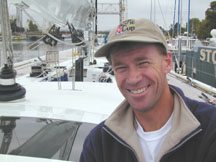 Working Waterfront In their own words
The Mari-Cha III is here in Alameda to do a bit of maintenance and prepare for the Pacific Cup race to Hawaii—a biannual event from San Francisco to Oahu. She's a head-turning boat. A lot of the really big super yachts aren't really that pretty, but I think Mari-Cha has elegant lines. She's a large, high performance boat (147 ft.), and she looks like she's meant for business. Most boats in this size range are usually more cruising oriented, but we're sort of a dual mode boat. We can change from cruising to racing, whenever the owner wants to go do some record breaking. More...