Archives
October 2002

Tidal Energy: Had Only Enron Known
Just imagine the market manipulation possibilities! Serious plans are contemplated whereby the tidal energy might be harnessed. Special Correspondent Michael McCarthy lays out the exciting More...
BARTbarians at the Gate
Ferry supporters turned out in force to beat back a plan for diverting funding from anticipated bridge toll hikes to an envisioned Livermore BART extension. Guy Span enters the hall of mirrors that is Bay Area transportation policy planning to attempt an explanation of what happened and why. More...

Farmers' Market and the Ferry Building
The Ferry Building is the keystone of San Francisco's historic waterfront and also central to plans for a comprehensive regional ferry system. When it reopens next spring after a soup-to-nuts restoration a beloved Farmers' Market is moving in., More...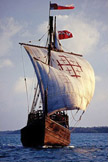 Tall Ships on the Bay
No Matter More...
Letters tothe Editor
Kudos, and What's With the ArtShip? More...
Blue & Gold Fleet Files to Discontinue Alameda Oakland Ferry Service
In a recent filing with the California Public Utilities Commission (PUC), Blue & Gold Fleet announced its intention to cease operating the contract ferry service between Alameda, Oakland, and San Francisco by January 31, 2003. Blue & Gold and the City of Alameda are in talks to extend the contract, but apparently, the company is not happy with the proposed terms of a contract they have had since 1993. More...
Bay CrossingsJournal
GOING TOWARD THE FURTHER SHORE More...
Master Mariners Benevolent Association Announces October & Future Events
Master Mariners Benevolent Association Announces October & Future Events More...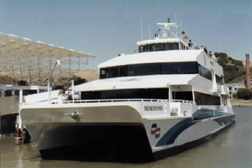 Golden Gate's New Catamaran, Mv Mendocino, Back to the Shipyard for Hull Replacement
Fresh from the shipyard in 2001, Golden Gate Bridge Ferry's beautiful new high-speed catamaran, the MV Mendocino, has been called back to the shipyard for the replacement of its aluminum hull. The problem is not with the shipyard, Nichols Bros. Boat Builders of Freeland, Washington, but with the Alcan Aluminum Corp. mill of Oswego, New York, and the aluminum-magnesium alloy it uses to reduce the corrosive effects of seawater. According to Pacific Maritime Magazine (March, p. 6), "Instead of hot-rolled alloy, the mill in Oswego changed to a cold-rolling process, which, according to speculation by shipyard customers, didn't integrate the magnesium in the alloy as well." The result is that aluminum-hulled boats built recently by several yards have had to be recalled and, unfortunately, the MV Mendocino is one of them. More...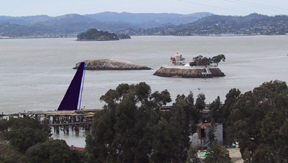 City Plans for Tidal Energy Surging Ahead
Hi, how are you doing today? Glad to see you out here." "Fine, sir," says the National Guardsman, surprised to hear words of praise. "Thanks for your support." Peter O'Donnell, wearing a shiny black vest over a formal white dress shirt with a colorful tie, stands out from the casually-attired tourists wandering about old Fort Point under the south end of the Golden Gate Bridge this rare fog-free summer day. O'Donnell, Senior Energy Specialist with the Department of the Environment for the City of San Francisco, stands out in another way. He isn't here to gaze up in the air like a tourist at the magnificent Golden Gate Bridge towering high above, or to stroll around the Civil War-era fort looking at relics of yesteryear. Instead, O'Donnell wants people to look down at the immense flows of water surging under the Golden Gate Bridge and give some serious thought to the future. More...
BARTbarians at the Gates
Ferry Supporters Pack MTC Meeting—Beat Back Proposal to Divert Toll Funds to Livermore BART Extension More...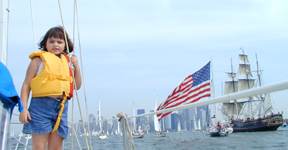 SAIL FOR AMERICA
Commodore Michael Fortenbaugh said, "Through a volunteer effort we created the greatest gathering of sailboats in New York Harbor history." Events began at 9 a.m. on September 15th when a fireboat started from North Cove sending plumes of water into the air. This signal started boats in the harbor to begin raising their sails. Three grand parades of boats converged in the harbor from every approach. Flotillas came from the East River, the George Washington Bridge and the Verrazano Narrows. The 3 parades joined other boats in the harbor. Forming a great gathering of boats off Battery Park City. More...
International Trade Experts To Present At Prestigious Pan Pacific Conference In Oakland
The 2002 Pan Pacific conference is an international meeting of key figures in international trade from around the world, many of whom have never presented before in the Western Hemisphere. The event occurs every two years. This year the Port of Oakland has the honor of hosting the prestigious conference at the Marriott City Center, October 15 and 16, 2002. More...
Port of San Francisco Welcomes the Columbus China to Pier 80 Omni Terminal
The Port of San Francisco recently welcomed the Columbus China's maiden voyage to San Francisco's Pier 80 Omni Terminal. The 2524 TEU cargo vessel is the newest member of Columbus Lines' West Coast Latin America-Asia service. More...
Fleet Week Viewing Party
The San Francisco Maritime Park is hosting a Fleet Week viewing party and reception atop the spectacular art deco Maritime Museum Building on Saturday, October 12, 2002, 2:00 pm to 4:00 pm. More...
Port of San Francisco to Host Record Cruise Business in 2003
Three major cruise lines have announced 2003 itineraries based at the Port of San Francisco that will push the Port's passenger volume to a 17 year high. Princess Cruises, Celebrity Cruises and Crystal Cruises each will homeport vessels in San Francisco next year. All told, more than 110,000 passengers will sail on 62 cruise voyages embarking from the Port, providing a significant boost to the region's visitor and maritime industries. More...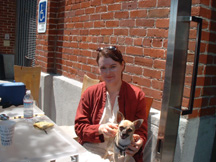 Farmers Come to the Bay
Farmers' markets are sexy. They seduce people. They bring them downtown at night. San Rafael did that. And since 1993, they have been bringing sophisticated San Franciscans to the Wharf—an area of the city where they formerly wouldn't be caught dead. Farmers' markets have been used to sell everything from shopping centers to restaurants, just by being there. Even Pacific Bell Park has a market stand with fresh produce on game days. More...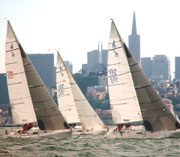 "BIG BOAT SERIES 2002" Hosted by St. Francis Yacht Club FINAL RESULTS
Boating Events Calendar More...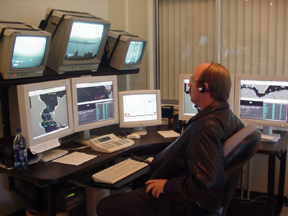 Ferry News
Did you ever wonder what keeps all of those high-speed ferries, slow-moving barges, and cargo ships on the Bay from bumping into each other? The answer is the U.S. Coast Guard's Vessel Traffic Service (VTS) located high atop Yerba Buena Island on San Francisco Bay. The first of its kind in the United States, San Francisco's VTS celebrated its 30th birthday last month. Unfortunately, we missed the birthday party, but were able to catch up with its head officer, CDR Dave Kranking, who explained, "The establishment of the VTS on San Francisco Bay in August 1972 was directly related to the 1971 collision of two oil tankers underneath the Golden Gate Bridge. In the aftermath of that collision, two acts were passed by the U.S. Congress: the Bridge-to-Bridge Radio Telephone Act, which required ships to communicate with each other on a common radio frequency, and the Ports and Waterways Safety Act, which directed the Coast Guard to establish Vessel Traffic Services, with the first being on San More...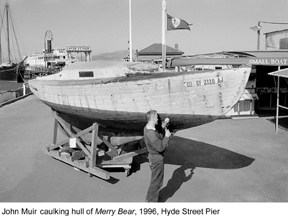 Bear Boat #1, Merry Bear Set to Return to the Waters of San Francisco Bay
For those of you who wince at the sight of a classic wooden yacht deteriorating in a remote corner of a boatyard lot, and at the shrinking numbers of the Bay's classic wooden racing fleets, this November 2 may offer you a pleasant antidote. After four years of patient work, the crew of the Small Boat Shop at San Francisco Maritime National Historical Park is ready to re-launch Bear Boat #1, Merry Bear. The Merry Bear was built in Sausalito in 1936 by Nunes Brothers Boatyard. She was the prototype of the Bay's now famous Bear Class sloops, of which there were over 60 built. Notoriously stable and seaworthy for their short 23 foot length, the Bear class boats stand as fine examples of West Coast, depression-era yacht design; a perfect "everyman's yacht." More...
"Damned by Dollars: Moby Dick and the Price of Genius"
The San Francisco Maritime Park presents a lecture and book signing by the master of Melville scholars, Hershel Parker. On the heels of the publication of his concluding volume of Herman Melville's definitive biography, Hershel Parker will be speaking about the life and times of Herman Melville. Given to standing room only crowds on the East Coast, you won't want to miss hearing this unique talk from the master of Melville scholars. Parker will also be signing copies of both volumes of the Melville biography and any of his other works. Parker's Herman Melville Vol. 2 will be on sale at the Maritime Museum Building on Tuesday, October 22, 2002 at 7pm. More...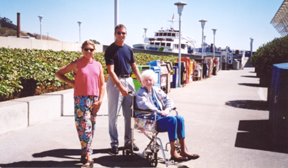 Building a Better Bike Stash
What seems like the ideal commute situation—ride your bike to the Larkspur ferry terminal and board for the city—can actually be laced with difficulties. For one, if you've got a nice bike, you don't feel right leaving it vulnerably chained to a bike rack at the terminal, or in one of the few bike lockers provided by Golden Gate Transit (where a recent, impromptu poll of cyclists who were asked what they thought might lurk inside turned up such horrors as "a bomb" and "a body"). The alternative of bringing it on the boat with you can be problematic, as the bikes are stashed outside while onboard and get misted with salt spray during the crossing. (There is no water provided as you disembark to rinse off the salt.) Even if it were good for the bikes, bike storage onboard takes up valuable room. More...
The Water Transit Authority's Green Machine
When the San Francisco Bay Area Water Transit Authority told its consultants, Glosten-Herbert LLD, to design the lowest emission vessel possible for the Phase II ferry system in the post 2010 years, the task ultimately fell to subcontractor Seaworthy Systems, Inc., and its chief naval architect, W.A. (Bill) Wood. We had an interesting conversation with Wood from his office in Connecticut. More...
New Pacific Princess To Set Sail In Alaska
Princess Cruises announced that its new Pacific Princess will be joining the company's 2003 Alaska fleet, offering eleven-day round-trip voyages from San Francisco. The small 688-passenger vessel, formerly sailing for Renaissance Cruises, will reposition to Alaska after cruising in French Polynesia and for sister company P&O Cruises Australia, in the South Pacific. More...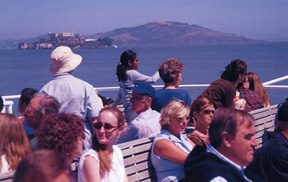 WTA PICKS HIGHEST SAFETY STANDARD FOR ITS FLEET
By 2015, the Water Transit Authority plans to put thirty-one new passenger ferries on the Bay. These boats will share the 548 square mile bay with commercial shipping, cruise ships, fishing boats, excursion boats, the U.S. Navy, recreational sailors, powerboaters, kayayers, windsurfers and board sailors. More...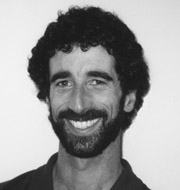 Working Waterfront In their own words
The Transportation and Land Use Coalition (TALC), formerly Bay Area Transportation and Land Use Coalition, was founded in 1997 to bring local, regional, and state groups together to promote sustainable transportation and land use in the Bay Area. In 1998, one of our first campaigns was to help shift $375 million towards transit, most of it coming from highway expansions. About 50 organizations, from the Sierra Club to homeless service providers, got up in front of the Metropolitan Transportation Commission (MTC) and asked for the same policy recommendation, even though each had different reasons. We were able to get all 17 commissioners to vote against the staff recommendation and in favor of one put forward by our coalition. This campaign really launched TALC. It made people realize that if we all worked together—environmental, social justice, housing advocates, and others—we could influence policy at MTC. More...