Archives
March 2002
On the Cover
The Pony Express, like the Internet boom, lasted only 18 months and lost money, but unlike the Internet boom the Pony Express is fondly remembered. It's trailblazing – literally – tradition of connecting the far-flung American West with the rest of the country is carried on by an air courier company operating out of Oakland International Airport. Meet the modern Pony Express riders. More...

New York Report
We're a hit in New York! Thanks to New York editor John Bollinger – and 60,000 people a day riding ferries into Manhattan in the wake of 9/11 — we're doing boffo business on the Great White Way: every issue snapped up and over 100,000 hits a day to our website from New Yorkers! This month, John and his team look at water transit planning for the tri-state area (that's New Jersey, New York and Connecticut) and tugboat history. We also welcome New York's Metropolitan Waterfront Alliances' monthy report. More...

Happy Poll Results for San Francisco Bay Ferry Plans
The results are in and they look good for ferry service. The WTA commmisiioned a comprehensive survey of Bay Area votes to learn what and how much they want in the way of expanded public transit and ferry service specifically. More...

Checkin' Out Vallejo's Flyway Festival
Nancy Salcedo gives her account of attending Vallejo's popular San Francisco Bay Flyway Festival and gets up close and personal with the birds and untapped natural beauty of Mare Island, part of Vallejo's waterfront junction with the North Bay. More...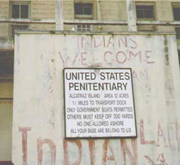 Alcatraz Darkly
You are entitled to food, clothing, shelter, and medical attention. Anything else you get is a privilege." That was just one of the rules prisoners lived by if they were sent to Alcatraz in 1934. Today visitors who take the "Alcatraz After Dark" trip to this windswept rock in the middle of San Francisco Bay can experience the loneliness the prisoners must have felt as they looked out the barred windows at the bright lights of San Francisco just over a mile away. The city seems close enough to touch but might as well have been a million miles away as far as those lonely men were concerned. More...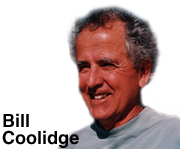 Bay CrossingsJournal
I'm curious about the migrations that are now occuring along Taylor's Creek and Shackleford Banks. First the skimmers started flying back and forth, curving, arching up and over, hundreds of them, day after day. Then they left. Now the cormorants, who have only been here a month are ganging up and steaming along water's edge, so earnest, no sound, no looking back and forth, just heading out toward the Atlantic. The sun in late November adds a glitter to the incoming tidal current. The wind out of the northeast creates riffs of minute whitecaps. But this is a superficial glimpse. Current, deeper and wider is stronger than wind. The riffled waves makes it look like the water is going south. But look at the buoys, the water steaming around them points north. Current wins. More...
Alameda Oakland Ferry to Cut Service
Alameda Oakland Ferry to Cut Service More...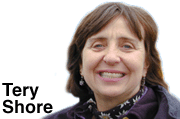 Bay CrossingsBay Environment
Port Sonoma Marina: Wildlife Refuge or Transit Hub? More...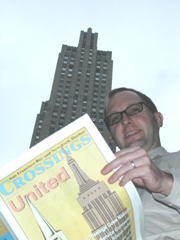 Bay CrossingsReader of the Month
Carter Craft New York Metropolitan Waterfront Alliance More...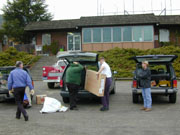 CoverStory
Before there was a Pony Express in 1860, Wells Fargo stagecoaches took twenty days to make the trip between St. Joseph, Missouri, furthermost edge of eastern "civilization", and Sacramento, where ferries completed the journey to San Francisco. But twenty days seemed an eternity to bankers and merchants so three stagecoach men, Senator W.M. Gwin, Alexander Majors and Daniel E. Phelps, came up with a plan for ten day service. More...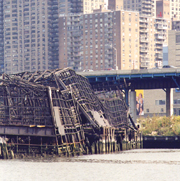 New YorkReport
News from New York's Metropolitan Waterfront Alliance More...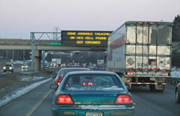 Reasonable Waters
I am a raving centrist raised by good American stock that never stole or cheated or lied to anyone. The following is written without attachment to the political right or left. It is written without attachment to Democrat or Republican. It is written without attachment to Jesus, Mohammed, Buddha, Joseph Smith or L. Ron Hubbard. More...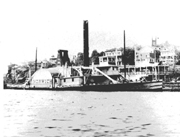 New York Harbor History
All hail the Mighty Tug!. Tug boats are so ubiquitous in New York harbor they become almost invisible to the daily ferry commuter. They resolutely tow barges with cargos as diverse as garbage and recyclables, giant work cranes, fuel for incoming ships and railroad freight cars. When not pulling, the feisty tugs shoulder and nudge cargo vessels, and the rare passenger liner, through the harbor's swift currents and eddies, assisting them safely to their piers. They even break ice, when called upon. And in times of catastrophe, tugs have been the heroes of the harbor. More...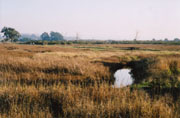 Checkin' Out Vallejo's San Francisco Bay Flyway Festival
Combining an opportunity to explore Vallejo's otherwise off-limits Mare Island with the only birding and migration festival held on the Bay, the annual San Francisco Bay Flyway Festival is "must-do" entertainment for Martin Luther King weekend each year. This year was no exception, the weather was perfect, the birds were out, and its a chance to get on Mare Island, part of a "Globally Important Bird Area" and a recently designated a National Historic Landmark. For hikers and birders, the festival provides miles of guided walks throughout the region. If you're looking for the latest on the bayshore's current land use and restoration issues, this is the place: Festival regulars include Save the Bay, Ducks Unlimited, Inc., Point Reyes Bird Observatory, San Francisco Bay Bird Observatory, all the local Audobon and Sierra Club chapters, Bay Area Ridge Trail Council, U.S. Fish and Wildlife Service, project managers from Lennar Mare Island-(Mare Island's Master Developer) More...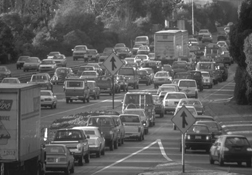 Getting More Transit Bang for your Toll Bridge Buck
At a recent press conference, State Senator Don Perata (D-Oakland) unveiled his vision for finding a revenue stream that will support all Bay Area transit systems, including the expansion of BART, express and feeder buses, commuter rail and new and enhanced ferry routes. More...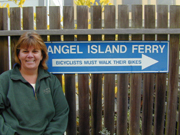 Working Waterfront In their own words
Angel Island Company (Angel Island Transport and Catered Events) More...
Delta Kappa Gamma Society International Reaches Out
The Delta Kappa Gamma Society International was founded in 1929 in Austin Texas. It is a professional honorary society consisting of more than 98,000 women educators in fourteen countries. Members include classroom teachers, college and university professors, administrators and supervisors, librarians, counselors, and educational specialists. The Society promotes professional and personal growth of women educators with a focus on excellence in education. More...
Letters tothe Editor
Ferry Riders of San Francisco and New York: Unite! More...
San Francisco Bay Master Mariners Benevolent Association Announces Calendar of Events
San Francisco Bay Master Mariners Benevolent Association Announces Calendar of Events More...
A Guide to San Francisco Bay Ferries (and what to do when you get there)
A San Francisco Bay ferryboat ride is a sublime experience of the first order. Figuring out which one to take can be a bit daunting because there are many ferry companies and no centralized schedule. But with the tiniest bit of planning it's possible for anyone, visitors and Bay Area residents alike, to quite easily experience the romance and unspeakable beauty of a short cruise on the Bay. And it costs surprisingly little. The commuter ferries present an especially attractive deal. Here's the basic skinny on what's available: More...