Archives
May 2002

Best of the San Francisco Bay Waterfront!
Here it is, the 1st Annual Best of the San Francisco Bay Waterfront Contest! Vote for your favorite Dive Bar, View Spot and much more and you could win a free trip for two to Paris! If that's not enough in the way of encouragement to send in your nominations, we'll even be offering free chair massages on randomly selected ferryboats. And you New Yorkers, don't fret: Best of the New York Waterfront is next up! More...

Staten Island Ferry: Quiet Hero of 9/11
Captain Eddie Squire and his crew aboard the John F. Kennedy had a front row seat on the tragic events of September 11, watching as the second plane roared directly overhead into the World Trade Center. Then, they immediately set to work ferrying rescuers in and survivors out. More...

Vale of Tears
Angel Island is a jewel set in the middle of San Francisco Bay offering up matchless views and all kinds of recreational opportunities. It also has a darker side. Here was the "Ellis Island of the West", but the Ellis Island of New York is remembered fondly by the immigrants it served. Not so with Angel Island. It was here that Asian-Americans were processed by the hundreds of thousands under racist laws that exploited them as cheap labor to build the railroads while denying them any semblance of dignity or human rights. The shame continues, in the form of inexcusably delayed plans for a memorial. More...

All Hail the Ferry Godmother
Fifteen years ago, the Vallejo ferry service – now a burgeoning success story – was on the ropes and slated for cancellation. Into the breach rushed Cindy Dewtiler, who just said "no". She was honored at the christening of the MV Vallejo, the newest ferryboat addition to the first-class fleet connecting Vallejo to San Francisco by water. More...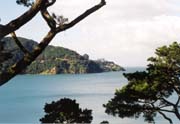 Vale of Tears
Angel Island's Immigration Station, "Ellis Island of the West", a Neglected Shrine More...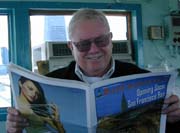 Quiet Heroes of 9/11
Staten Island Ferryboat John F. Kennedy and her Crew More...
New YorkReport
News from the MWA Somewhere in the Swamps of Jersey More...
Take A Free Harbor Tour — Help The Port Of Oakland Celebrate Its 75th Anniversary And See Giant Cranes And Maritime Operations
Every year the Port of Oakland offers the public a rare glimpse of its maritime operations. This year's Annual Harbor Tours begins on Thursday, May 2nd, 2002. More...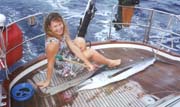 Book Review
This is a well-written and valuable cookbook for those ashore as well as on a boat. It shares recipes collected from all around the world combined with solid advise for the keeper of the galley from day sails to ocean passages. Amanda gives very entertaining snippets of her experiences from 152,000 miles at sea providing meals for salty sea dogs to true gentleman and ladies of the sea. More...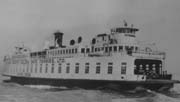 So Where Are They Now?
Who would believe that 75 years after they were built, some San Francisco Bay ferries are still in existence? And not just in Argentina (where the Yosemite vanished without a trace) or in the stuffed and mounted manner of the steam museum ships Eureka (San Francisco Maritime Museum) or the Berkeley (San Diego Maritime Museum). The Berkeley deserves special mention, as she still retains her delightful interior on the second deck, with art glass windows fabricated in San Francisco, just after the turn of the earlier century. But below decks and in the name of PRESERVATION, the curators have cut a boiler in half, so we can see inside (nobody alive ever looked inside a working boiler, except through the firebox door). More...
From Oceanand Scenic
It is happening folks. Yes, there is validity to the fact that most of the weather stations that report ground temperatures around the world are located in or near major cities and that this influences the readings. However, lets be honest with ourselves, 90 degree temperatures in April in NYC are not the way it is supposed to be. Chunks of Antartica, the size of Rhode Island breaking off and melting in a couple of months is not normal. We don't need to run around like Chicken Little screaming the sky is falling, but we have to start to change our co-dependence on fossil fuel and the personal automobile. More...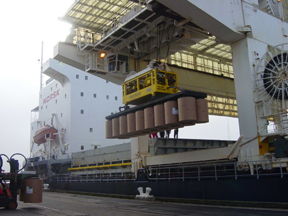 Imported Newsprint Shipments Back at Port of San Francisco
After an absence of several years, the Port of San Francisco recently welcomed two vessels transporting thousands of tons of imported rolled newsprint to its Pier 80 Omni-terminal. The MV Thorseggen, a specially built newsprint carrier, arrived on Sunday, March 31 with 1600 metric tons of newsprint. Owned by Norsk Pacific Steamship Company, Ltd., a Washington Company, the MV Thorseggen transports newsprint and specialty paper products from the Norske Skog Canada paper mills at Crofton and Elk Falls down the coast to San Francisco, Long Beach and San Diego. More...