Archives
September 2002
Ferries Forever and Everywhere
WTA releases its long-awaited plan for expanded ferry service to general acclaim. Ferry advocates rejoice! It's a time to celebrate but not for long: much work remains to be done, some of it urgent. More...
Sausaged Reprise
We first published this hilarious, or perhaps horrifying, depending on your point of view, account of how funding for WTA was literally brought back from the dead almost single-handedly by ferryboat union leader Marina V. Secchitano. On the happy occasion of WTA submitting it's long awaited plan for expanded ferry system, we thought it fitting to recall how the baby was almost killed in the crib. More...

Good Intentions Headed Where?
Oakland's Artship is an ambitious project that has long sought funding to use a surplus training ship for hybrid arts/maritime training purposes. Intriguing concept, but is it the best use of limited funds and waterfront space? Ace reporter David Fear takes a look. More...

Last Chance to Enter Best of the Waterfront Contest!
Entries for the First Annual Bay Crossings Best of the Waterfront Contest will be accepted through the end of this month only! Get your entry in soon to make sure your voice counts and to enter your name for a chance to win two tickets to Paris aboard Air France. Look to the November issue of Bay Crossings for all the winners. No hanging chads, we promise. More...
Letters tothe Editor
Stop Class Mongering More...
Editorial A Time to Celebrate
Three years ago this January, on a blustery morning on the San Francisco Ferry Building docks, Inlandboatmen Union (IBU) deckhands, led by their indomitable Regional Director Marina Secchitano, joined me to hand out the first copies of Bay Crossings to groggy ferryriders arriving on the first boat. The idea behind Bay Crossings was to educate the ferryriding public about the importance of water transit and rally support for expanded service. More...
Bay CrossingsBay Journal
Circling La Guardia airport, I took a break from reading At Sea in the City and tried to imagine William Kornblum's journey in and around the waters of New York City. I saw a few beaches, abandoned docks, ferries, tugs, fishing boats, and a handful of sailboats. I hadn't thought much about sailing when I visited Manhattan, but for sailors and nonsailors who, like me, are drawn to a sense of place, this is a book filled with details of ports, neighborhoods, bars, history, and a hope for the future. More...
Peanut Butter & Jam Festival to be Held September 7th in Alameda
A Peanut Butter & Jam Festival hosted by the West Alameda Business Association (WABA) is scheduled for Saturday, September 7th, on Webster Street in Alameda. The festival will take place between 12 p.m. and 5 p.m. on a closed, four-block strip of Webster Street between Central Avenue and Lincoln Avenue. The event is free and open to the public. More...
Sunset Bay Cruise With Save the Bay
Come join Save the Bay's special Autumn Equinox/Full Moon Bay Cruise on Saturday, September 21st, on an historic Red and White ferry. Enjoy salty air and endlessly staggering views, snacks, and information about the Bay from the folks at Save the Bay. Don't forget your camera—join us and capture the mood of autumn on the Bay! More...
Bay CrossingsBay Environment
A year after the September 11 attacks, many New York ferry operators are still running essentially an emergency service. A fleet of new, used, and borrowed vessels have been deployed rapidly to carry commuters across the New York Harbor while subway lines are repaired. The fleet has grown quickly and continues to expand to accommodate public transit needs. More...
Lunch for the Office Bunch Aboard Golden Gate Sausalito Ferry
The Bay Area's most popular summer lunchtime tradition is back! Treat yourself to a lunchtime vacation aboard the Golden Gate Sausalito Ferry's 18th annual Lunch for the Office Bunch! Snack from the onboard bar or bring your lunch, sit back with your friends and enjoy live onboard concerts on the short trip to Sausalito and back. It's the perfect getaway for your Fridays through October 4, with special musical events on these days: More...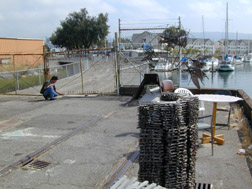 Good Intentions Headed Where?
If you drive down Interstate 880 heading east alongside Oakland's waterfront district, you might not notice the large seafaring vessel silently biding its time at the 9th Avenue pier. But let's say you were to spot it as you sped by, you might just dismiss it as an average freight temporarily docked for unloading, one of the many ships passing in the night through the busy East Bay port. If, however, you have a keen eye even while whizzing along the freeway, hopefully at a safe, state-sanctioned speed, and perhaps a small amount of historical maritime knowledge, you might notice that the beat-up behemoth resting in the bay isn't a run-of-the-mill trawler or a beat-up old cargo ship but an aquatic anomaly, an antique luxury liner from a bygone era that seems impressive even in its current decrepit state. More...
Dial Up "E"…for Education
For years now, you've been wanting to sally forth once more into the fray of higher education, but with a family to feed, a boss to keep off your back, and physics' damned finite-amount-of-time-and-space-continuum rule, how can you find the time and energy to do it? Or, maybe you're just starting out your college career, and you're not sure whether a summer job will finance your Ivy League future just yet. Add in the inevitable commute-hours traffic nightmare and the parking crunch inherent in attending a decent night school program on a college campus, and the reasons to put off those computer classes or to get cracking on that extra degree just keep multiplying. More...
Port of San Francisco Names Kenneth E. Winters as Director of Real Estate
The Port of San Francisco today announced that Kenneth E. Winters has been named as the Port's new Director of Real Estate, effective immediately. Winters is responsible for directing, promoting, and managing the Port's real estate portfolio along the 7.5 miles of San Francisco's waterfront that extends from Fisherman's Wharf to Bayview/Hunter's Point. More...

More Boats, Convenient Connections and Environmentally Friendly Ferries!
After two years of technical study and public outreach, the Water Transit Authority (WTA) announced completion of its draft ten-year plan (Implementation and Operations Plan) and Draft Environmental Impact Report for ferry expansion in San Francisco Bay. The agency plans to hold eleven hearings to invite public comment on these documents. (See inside front page for details). More...
The South-End Rowing Club's 7th Annual Alcatraz Invitational Swim
Lynne Cox, the world's best cold-water open water swimmer, two-time English Channel world record holder, Conqueror of Bering Straits, Member of the International Swimming Hall of Fame is this year's Master of Ceremonies for the event. More...
The Second Coming
Your intrepid reporter was on the ferry, basking in the warmth of the setting sun, enjoying the glow of an adult beverage, when his solitude was abruptly interrupted. More...
Pure Ecstasy, Sandy Cressman to Close Out Summer Evening Sounds Concerts September 19th in Downtown Oakland
On September 19th, rhythm-and-blues group Pure Ecstasy and Brazilian jazz musician Sandy Cressman will bring the 16th annual Summer Evening Sounds concert series at Oakland City Center to a rousing close. The two groups will perform in City Square and in the Zen Garden at 1111 Broadway, respectively. More...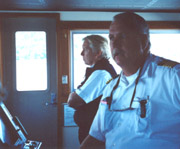 Working Waterfront In their own words
When I was a teenager in the '70s, my parents sent me to a sailing camp on Orcas Island in Washington's San Juan Islands. Coming from the Bay Area, it's an all-day trip starting at the crack of dawn at SFO. After a two and a half-hour yellow school bus ride from Seattle to the Anacortes ferry landing, we would catch a Washington State Ferry to Orcas Island. Seeing that great, big green and white boat pull into Anacortes meant we were almost to our destination - six weeks in paradise. Riding the ferry was by far the best part of the trip. More...
Fall Boat Show Celebrates 32 Years!
NORTHERN CALIFORNIA MARINE ASSOCIATION'S ANNUAL FALL SHOW More...